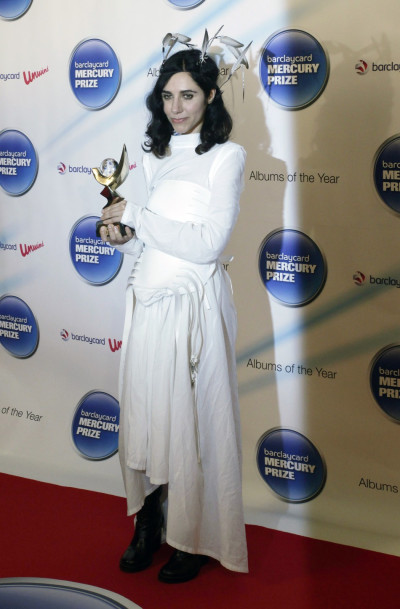 Singer-songwriter PJ Harvey won the Mercury Prize 2011 Tuesday for the second year in a row, a first in the Barclaycard Mercury Music history.
Harvey -- the initials stand for Polly Jean -- snagged the award for her album "Let England Shake," which she said was influenced by the horrific events of Sept. 11, 2001, among others.
"It's really good to be here as when I last won 10 years ago on Sept. 11 I was in D.C., watching the Pentagon burn from my hotel room," she told the audience at the awards ceremony in the Grosvenor House hotel in central London.
Simon Frith, chair of the Mercury judging panel, said the album was "an example of an artist having complete conception for an album." "There is a song cycle in the traditional sense. All the songs relate to each other and there is nothing you can imagine changing" he told The Guardian.
Harvey wore a stunning floor-length, white-feathered gown.
Other nominees also graced the red carpet in fashionable style; Tinie Tempah wore a brave red suede tuxedo jacket while Adele looked elegant as she stuck to her signature classic black dress.
The star-filled event saw performances from all the nominees - Ghostpoet, Elbow, Tinie Tempah, James Blake, Anna Calvi, Everything Everything, Gwilym Simcock, Metronomy, Katy B and King Creosote & John Hopkins - except Adele, who could not sing because of a chest infection.
Join us as we take a look at winner PJ Harvey and other nominees on the red carpet.