Microsoft Windows 10, clearly the most anticipated technical product of the year is now officially confirmed to be offered for free, to users of Windows 7 and Windows 8/8.1, in a full version format; thus putting to rest all speculation regarding the upgrade nature of Windows 10 for users of older OSes.
According to a Winbeta report, that refers to a screenshot apparently posted by a Windows 7/Windows 8 user, Microsoft is also letting users reserve their Windows 10 upgrade copy.
Once reserved, Windows 10 will be downloaded on priority to such users (Windows 7 and Windows 8), after the full public release of the OS is released officially by Microsoft.
Post download, users can install and run Windows 10 and report feedback (about the OS in general), if any, directly to Microsoft.
However, users can also choose to cancel their Windows 10 reservations at any point in time.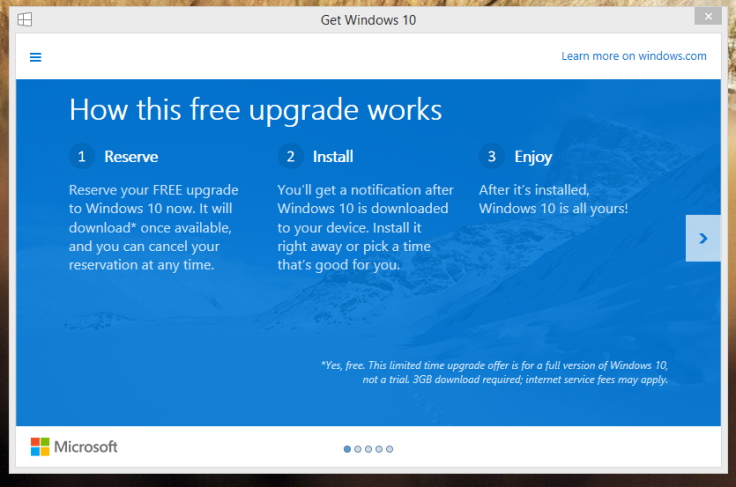 The above screenshot also officially confirms that Windows 10 will indeed be a free upgrade, for Windows 7, Windows 8/8.1 users. This aspect puts to rest all rumours that hinted at Windows 10 being offered at a premium price for older Windows 7 users.
The Winbeta report also states that Windows 10 upgrade notifications will be available to all Windows 7, Windows 8/8.1 users shortly, hence users are advised to check out newer notifications, in the notification area of their desktops.
The full public version of Windows 10 is expected to be launched during the summer this year, but rumour mills are rife about the OS being released as soon as the end of July 2015.