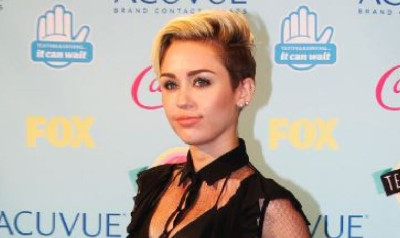 Pop star Miley Cyrus is reportedly hurt that her former fiance, Australian actor Liam Hemsworth, has moved on with The Vampire Diaries star Nina Dobrev.
Earlier, the 23-year-old Hunger Games star and Dobrev were reportedly spotted kissing at the Corner Tavern bar in Atlanta, Georgia.
According to a Hollywood Life report, the former Disney star is upset about the whole situation.
Hemsworth and the 20-year-old met on the sets of the Nicholas Sparks film, The Last Song in 2009. In 2012, Hemsworth proposed to Cyrus with a 3.5-carat Neil Lane diamond ring. The couple made their last public appearance together at the premiere of his film Paranoia at the DGA Theater in Los Angeles, before Hemsworth officially announced his split from the Party in the USA singer.
Cyrus was hurt after hearing about Hemsworth and Dobrev, and is trying to use her Bangerz tour, which kicked off on Valentine's Day in Vancouver, to distract herself.
"The tour has been helping take her mind off Liam, because she has no choice but to be really focused, but when she heard about Liam and Nina of course she was upset," a source told the website.
"She hasn't spoken to him in a while and she tries not to think about him with other girls but she heard about it and it hurt. She's just trying to move on though, and not obsess."
Meanwhile, during an interview with Cosmopolitan magazine December issue, she revealed how she is dealing with her split from Hemsworth.
"I need to treat my music like a relationship – give it my time and all the attention it deserves – and that's my main love right now. This is the best time of my life. I'm not going to look back on it and be like, 'I wish I hadn't been dwelling over a breakup,' you know? Because that's not what God wants my life to be about right now. God wants my life to be about being successful and being happy and blessing other people and being blessed," Cyrus said.