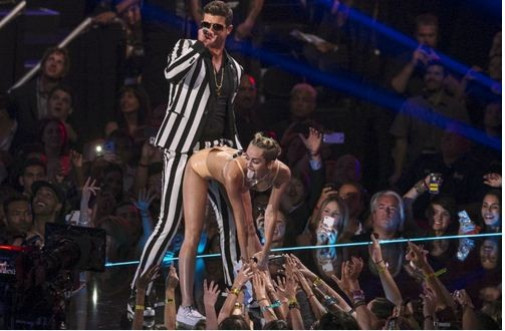 Twerking, the provacative dance move made famous by Miley Cyrus, has triggered a competition. The Twerking championship is expected to happen at the Scala nightclub in north London.
"Twerking is sexy. It has gone so mainstream we thought it was only right to start a yearly event to find the best twerkers in the UK. It's really caught on and if we can make this a success it can go on to become bigger and better every year," organiser Harold Anthony stated.
There will be solo and duo performances and participants will fight for a £200 prize.
"The first round is a 30-second freestyle - one at a time - and four girls will be eliminated after that. The second is the 'Jelly Round' where girls have to shake it all without moving their feet. The third is 'Off The Wall' and involves women doing a handstand and twerking while upside down. In the fourth they have to twerk while doing the splits," Anthony added.
Cyrus's signature dance move - the twerk - also made it to the list of words added to the Oxford Dictionaries Online. The definition reads: "The twerk, v.: dance to popular music in a sexually provocative manner involving thrusting hip movements and a low, squatting stance."
This particular dance move has garnered significant publicity over the past few months, following the singer's performance during the 2013 MTV Video Music Awards (VMA). The 20-year-old came under criticism because of the skin-tight, flesh-tone costume she wore at the event combined with a particularly suggestive performance of the twerk.
"She made multiple very indecent sexual poses and gestures, from grabbing her crouch, using a foam finger like a dildo, and licking the butt of a stuff bear," one viewer stated in a Federal Communications Committee.
"This was pure porn.... GOD HELP THIS NATION and those who desire to pump more filth into our living rooms," a viewer from Florida noted.
Cyrus has however, bragged about her shocking performance.
"Smilers! My VMA performance had 306,000 tweets per minute. That's more than the blackout or Superbowl! #fact," Cyrus tweeted to her fans on 26 August.