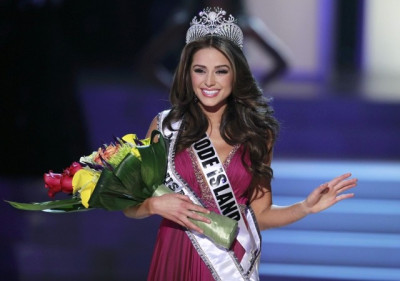 Miss Rhode Island Olivia Culpo was crowned Miss USA 2012 during the 61st Annual Miss USA pageant held at the Planet Hollywood Resort & Casino in Las Vegas, Nevada, on Sunday evening.
Olivia Culpo was crowned by her predecessor Alyssa Campanella, Miss USA 2011, at the conclusion of the LIVE NBC broadcast of the 2012 MISS USA Competition, which was viewed by over 250 million audiences worldwide.
Miss Rhode Island USA 2012, Olivia Culpo's views over participation of transgendered contestants in a beauty contest won her the coveted title. Culpo, 19, said that it would be fair for transgendered contestants to win the pageant.
Olivia Culpo will represent the United States at the Miss Universe pageant later this year. She will spend her year-long reign making special appearances on behalf of the Miss Universe Organization and will work to raise awareness and funding for breast and ovarian cancer, according to the Miss Universe Organization.
"Olivia Culpo is a 19 year-old from Cranson, Rhode Island and is a sophomore at Boston University where she has made the Dean's List every semester. She grew up in a musical environment. Culpo has played cello for 13 years, sings, and plays the piano. As a cellist, Olivia won seats in Boston Symphony Hall and New York's famed Carnegie Hall," the organisation said in a statement.
Miss USA 2012 contestants competed in three categories: swimsuit, evening gown and interview.
Miss Maryland USA, Nana Meriwether and Miss Ohio USA, Audrey Bolte was crowned with the first and second runner-up titles. Miss Oregon USA, Alaina Bergsma took away the Miss Photogenic USA award, while Miss Iowa USA, Rebecca Hodge was awarded Miss Congeniality USA during the two-hour pageant.
The judging panel for the 2012 MISS USA Competition included Cat Cora, Arsenio Hall, Marilu Henner, Joe Jonas, Rob Kardashian, George Kotsiopoulos, and Dayana Mendoza, Miss Universe 2008.
Check out the slideshow to view some of the best crowning moments of Miss Rhode Island USA 2012, Olivia Culpo and her pictures from swimsuit, evening gown and interview rounds.