Global mobile app downloads are expected to more than double in the next four years to 284 billion as smartphone adoption rises along with user maturity, mobile app research firm App Annie revealed.
In its latest report, App Annie Mobile App Forecast: The Path to $100 Billion, the company said global mobile app store revenue will also nearly double to $101bn (€90.6bn, £70.6bn) in 2020. Gaming apps will take the largest share of 25% of all app store spend.
Within apps, games have always been the leading indicator for the app store and they will continue to drive installs. In 2015, over 45.4 billion games were downloaded, accounting for 41% of the overall downloads across app stores. Over 101.2 billion gaming mobile apps will be installed by 2020.
"We expect the games category to grow to $41.5 billion in 2016 and $74.6 billion in 2020, thanks to strong monetization in mature markets, especially China's tier-one and tier-two cities, as well as Japan and South Korea," noted Danielle Levitas, senior vice president at Research & Analysis arm at App Annie.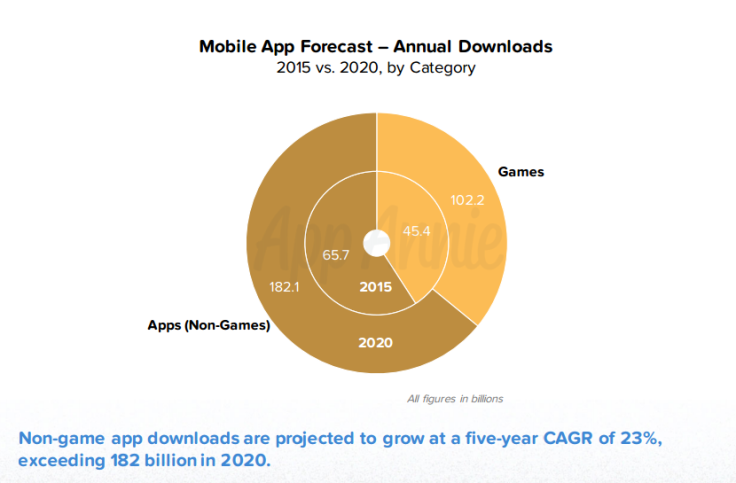 Within platforms, iOS will continue to dominate over Google Play and other third-party app stores regarding revenues earned from game downloads and in-app purchases. Regarding the total number of downloads, Google's Play Store is way ahead of Apple's App Store. Google is expected to achieve 166 billion downloads by 2020 on Android, against 35.2 billion downloads on iOS during the same period.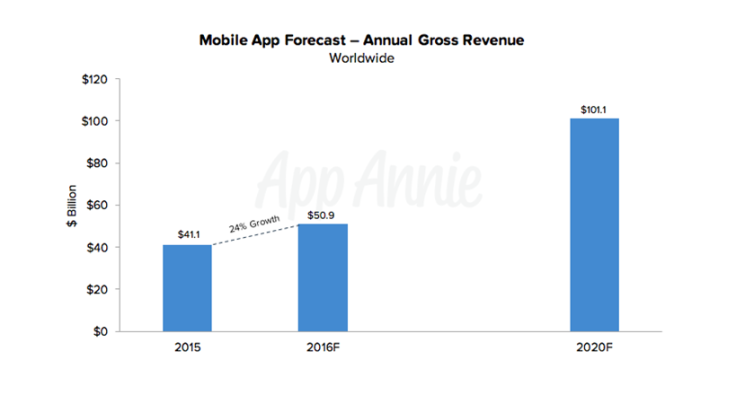 The report elaborated that the factors for this growth were rising adoption of smartphones in emerging markets, increasing usage of mobile apps in matured market and growth of newer device form factors such as wearables, TVs, virtual and augmented reality (VR and AR), home Internet of Things (IoT) and automotive.
"While large markets, including the United States, Japan, and China, are central to overall app revenue growth, we see tremendous opportunity in fast-growing markets from India and Indonesia to Mexico and Argentina. The combination of steady growth in many mature markets along with rapid growth in emerging markets will propel the market's continued expansion," Levitas wrote in the report.
Interestingly, as far as usage is concerned, people are spending more time on their phones interacting with these apps, especially social media, shopping, transportation and business apps.