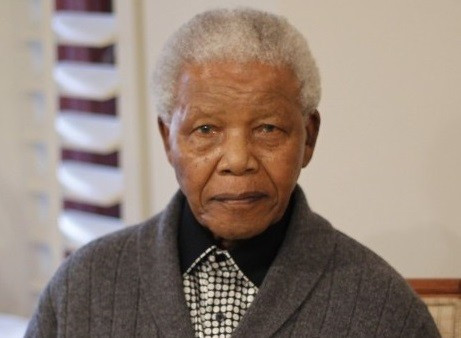 Nelson Mandela's family have been advised by doctors to turn off his life support machine to end his suffering - but have refused until they get back the bodies of three of his children that were dug up and taken by his grandson.
In the latest twist in an increasingly macabre story, senior members snubbed medical advice and said that until the corpses, which were taken by his grandson Mandla, had been returned to their original resting place in Qunu, Mandela's life support would stay switched on.
They argued that the former president should not be buried alone.
According to South Africa's Independent Online, an affidavit presented at the Mthatha High Court by the family said: "The family has been advised by the medical practitioners that his life support machine should be switched off. Rather than prolonging his suffering, the Mandela family is exploring this option as a very real probability.
"The applicants do not want a situation to be created in which Mr Nelson Mandela's remains are committed to lie in a burial site, entirely alone and absent from those remains of his children and grandchild.
"It has always been the desire of Mr Nelson Mandela for his remains to be buried at his family's homestead in Qunu near Mthatha, Eastern Cape.
"The applicants are desirous of burying their father and committing him to the earth in which his descendant's remains lie.
"It's incontestable that these are the wishes of Mr Nelson Mandela. But because Mandela's grandson, Mandla, had removed the remains of the three relatives and reburied them at his homestead in Mvezo, Mandela could not be laid to rest with them."
Self-serving interests
Mandla Mandela, the chief of Mvezo, was ordered to return the bodies to the family to be reburied in Qunu, where the anti-apartheid hero grew up.
After he refused, police raided his property to retrieve the corpses of Mandela's daughter Makaziwe, who died as an infant, and his two eldest sons, Makgatho (Mandla's father) and Madiba Thembekile.
The family say Mandla moved the bodies so he could profit from Mandela's death, knowing his grandfather would want to be buried with his dead children, and was planning to turn Mvezo into a place of pilgrimage.
"It would appear that the first respondent [Mandla] desires that Mr Nelson Mandela be interred in his land for self-serving interests," the affidavit said. "By controlling the area in which these descendants' remains are buried, he expects that the remains of Nelson Mandela will soon follow."
DNA tests were being carried out to confirm their identities of the corpses. If confirmed, they will be reburied in Qunu.
Mandla said he would not appeal against the latest ruling.
Mandela has been in hospital since 8 June when he was admitted with breathing difficulties.