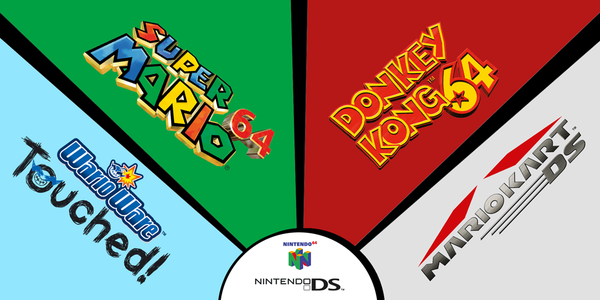 Nintendo is launching the Nintendo 64 and DS Virtual Consoles (VC) on Wii U with the immediate release of Super Mario 64, Donkey Kong 64, Mario Kart DS and Wario Ware: Touched on the eShop. The announcement was made during their most recent Nintendo Direct broadcast held on 1 April.
Each game will launch at £8.99 and until 16 April gamers will be able to get all four games for the price of three. If you have previously bought one of the games on the Wii Virtual Console you will be able to upgrade for the one-off cost of £1.75.
N64 games will come with the ability to thoroughly re-map controls to the GamePad, while DS games will come with various methods of display taking advantage of the two screens. N64 games which required the Rumble Pak back in the day will also feature rumble in these VC versions.
The original Paper Mario for N64 and Yoshi's Island DS will be made available some time in May.
Meanwhile Panodra's Tower and Sin and Punishment Successor of the Skies will be the next Wii titles headed to Wii U on 16 April and 30 April respectively, and with 25% off for one week only.