Nintendo reveals Nintendo Switch: its new home and handheld hybrid console
Nintendo finally unveils its new dedicated gaming hardware including a first look at the next Mario game.
Nintendo has formally announced the Nintendo Switch: its new piece of dedicated gaming hardware set for release in March 2017. As had been reported earlier this year, the device previously known by its codename NX, will be capable of both home and portable gaming.
The Switch was announced with a three-and-a-half minute trailer revealing the basic concept of the console and promising much more information . The trailer also teased a few NX titles, including a new Mario platformer and seemingly Wii U titles including Splatoon.
The device is a handheld screen with two controllers on either side that can be slotted in and out to create the handheld or a controller for use when the screen portion is put into a docking station connected to a TV.
Mario Kart 8, Skyrim: Special Edition and NBA 2K17 also appeared alongside the new Mario title and Splatoon. A fully-formed controller similar to the Pro Controller for Wii U is also seen.
Here's every game and publishing partner for Nintendo Switch so far.
In a blog post Nvidia confirmed the Switch is powered by a custom Tegra processor. "The high-efficiency scalable processor includes an Nvidia GPU based on the same architecture as the world's top-performing GeForce gaming graphics cards."
Switch is the successor to both Nintendo's 3DS portable and Wii U home console. The Wii U was a commercial failure by anyone's reckoning, so the pressure is on for Nintendo to deliver a system that can find success in a market dominated by mobile gaming and the more powerful PS4 and Xbox One.
Nintendo first revealed the existence of the new console back in March 2015 during a press conference in which the gaming giant first announced plans to make mobile games with DeNA. The late Satoru Iwata revealed the NX was in development to alleviate concerns about the company moving away from traditional gaming.
"As proof that Nintendo maintains strong enthusiasm for the dedicated game system business," Iwata said at the time, "let me confirm that Nintendo is currently developing a dedicated game platform with a brand new concept under the development codename NX."
From the very start, Nintendo said it would not offer any more information regarding the console until 2016 and indeed they didn't. In the news vacuum created, countless rumours circulated in the year that followed, until Nintendo resurfaced to reveal that the new Legend of Zelda game, Breath of the Wild, would be heading to NX as well as the Wii U.
Everyone expected the NX to be revealed at E3 in June, but Nintendo disappointed fans by focusing instead on Breath of the Wild and a few other select titles for Wii U and 3DS.
The following month, the most substantive report yet regarding what NX would be was published by Eurogamer. They revealed what had been speculated for some time: that the console would be a powerful handheld device that also works with television sets via a docking station. They also revealed that it would use cartridges – a necessity given its handheld nature.
In August, MCV reported that a new Mario game and a new Game Freak-developed Pokémon title would be released for the device within six months of its launch.
In September, The Pokémon Company's chief executive Tsunekazu Ishihara all-but-confirmed that NX would be a hybrid, telling the Wall Street Journal: "The NX is trying to change the concept of what it means to be a home console device or a hand-held device." He also confirmed Pokémon games would be made for the system, which was a given.
Four games have been officially announced for the Nintendo Switch
Dragon Quest 11
Project Sonic 2017
Just Dance 2017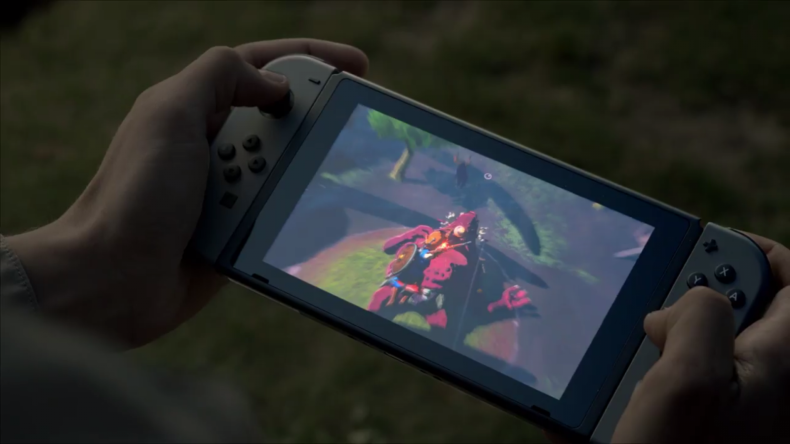 For all the latest video game news follow us on Twitter @IBTGamesUK