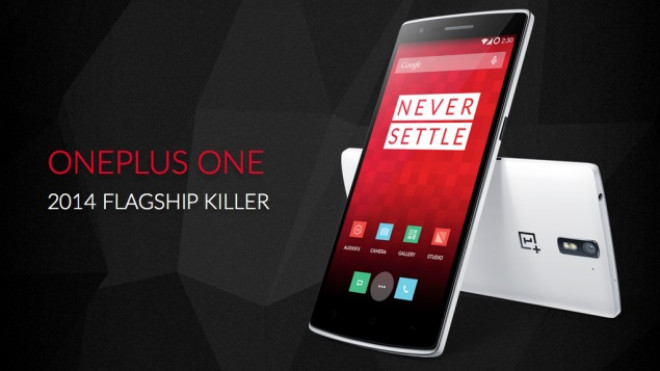 Earlier this week, LG announced its LG G3, its latest Android flagship smartphone. The handset employs effective imaging technology and features a display that's one of the best that we've ever seen on a smartphone. We compare it with the pocket-friendly OnePlus One to see how it fares.
Design
While the OnePlus One has good build quality, its choice of plastic as material doesn't allow it to feel premium. The LG G3 uses a small panel of plastic in the front with a metal finish below and polycarbonate (again, with a metallic finish) in the back and sides. Owing to its higher price point, LG could have used a metal body instead of resorting to plastic.
When it comes to ergonomics, both handsets are fairly large by virtue of their abundant screen sizes. Both of them use a 5.5 inch screen, so they won't be a comfortable fit unless you like large phones with big displays.
Display
The OnePlus One has a 5.5 inch 1080 x 1920 IPS LCD display with a pixel density of 401 pixels per inch, which translates into an excellent viewing experience.
However, LG takes things to the next level with a powerful 1440 x 2560 pixels resolution display that delivers an eye-wateringly sharp pixel density of 538ppi. As mentioned before, both handsets use 5.5 inch displays.
Hardware
Both handsets feature chipsets from Qualcomm, which has a quad-core Snapdragon 801 processor clocked at 2.5 GHz along with an Adreno 330 GPU.
Things get even more competitive when it comes to onboard memory since both contenders have a total to 3GB of RAM on board, as opposed to other high-end handsets like the HTC One and Samsung Galaxy S5, which only have 2GB.
In short, both handsets should be able to handle any kind of task that you throw at them thanks to their powerful processing muscle and abundant memory.
Moving on to storage, the OnePlus One has no expandable storage, but comes with on-board memory options as great as 64GB apart from a 16GB variant as well.
The LG G3 comes with 2GB of RAM and 16GB of internal memory. A second variant offers 3GB of RAM and 32GB of internal memory. Regardless of which variant you pick, the LG G3 also has a microSD slot (up to 128GB).
Imaging
The OnePlus One snaps solid images with a 13MP Sony Exmor RS sensor that is combined with a 6 parts lens with a f/2.0 aperture and dual LED flash. It has the capability to shoot 4K video with stereo recording and slow Motion 720p video at 120fps. The handset also has a solid 5MP front facing camera as well for HQ selfies.
The LG G3 also uses a 13MP sensor. Apart from the improved OIS+ (optical image stabilisation) technology, LG has added a powerful Laser Auto Focus feature. The phone uses a laser beam to reach the object and come back.
After this, it can measure the distance between the camera and the object, and hence move the lens to achieve perfect focus. It has a dual-tone flash and can also shoot 4K video. Up front, LG has employed 2.1 MP camera for some decent selfies.
Software
One of the domains where the OnePlus One truly shines happens to be with its software. The handset comes out of the box with CyanogenMod 11S, which happens to be a special release built for the phone.
It features stock Android 4.4 Kitkat, a plethora of customisation options and other features like the ability to play FLAC files. Other noteworthy features include voice command, which lets you wake the phone up, pre-set gestures that help you launch your favourite apps and much more.
LG promises that its new interface will simplify everything for users. The company adds that there are 30% less pre-loaded apps on this version of its UI when compared to its previous versions.
Welcome additions include Knock Code. However, the UI is awkwardly implemented and annoying at times. We prefer the OnePlus One's clean and efficient CyanogenMod 11S.
Which One Should You Buy?
The LG G3 offers superior imaging with its powerful Laser Auto Focus and offers 4K recording. It has many advantages over the OnePlus One in the imaging department, unless selfies are your priority.
Its most important advantage over the OnePlus One happens to be its amazing display, which is by far the best that we've seen on any smartphone. So if you value these two features, along with options like expandable storage, the LG G3 is a good choice for you.
However, if you are on a tight budget, the OnePlus One has a much more wallet-friendly price that is much cheaper than the LG G3. While it might not offer expandable storage, 4K video recording and the best display in the market, the OnePlus One boasts a better front camera, a comparable rear camera, equal hardware performance and the loveable CyanogenMod 11S.