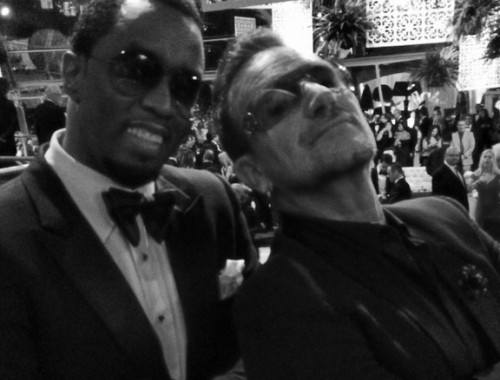 P Diddy started 2014 on an incredibly awkward note when Bono rejected his advances at the 2014 Golden Globes awards.
The duo's painful interaction came when the U2 frontman took to the stage to collect the award for best original song for 'Ordinary Love' from Mandela: Long Walk to Freedom. The accolade was presented by Diddy, Usher and Kate Beckinsale.
As the music mogul went in for a man hug and a kiss, Bono noticably pulled back and dodged Diddy's full embrace.
The attempted hug, which may have been fuelled with too much Dutch courage on Diddy's part, was soon turned into gifs and became a hot topic online.
"Lol doddy deserved it, what a fame hog stop trying to steal the spotlight and change your name it sounds like a kids cereal," one fan said.
Another wrote: "You can actually see the bit where the last ounce of Diddy's self respect left him."
However, just hours later, the pair appeared to have put the past behind them and were seen posing together at the Golden Globes after party.
The Bad Boy records further proved all was forgotten by sharing a snap of him and Bono having a great time on Instagram.
He captioned the black and white image: "#diddyglobes after party has begun me & Bono all we do is WIN."