A Polish billionaire who pretended to be a diplomat from Guinea Bissau has been arrested by Spanish police for suspected illegal arms sales, including those of 200,000 assault rifles. The unnamed man was nabbed on the Balearic Island of Ibiza in a plush mansion were he had a selection of supercars at his disposal.
During events which echoed the BBC spy drama The Night Manager, starring Tom Hiddleston, the Cuerpo Nacional de Policía de España arrested the billionaire on suspicion of "arms trafficking and extortion".
Claiming to be a diplomat from Guinea Bissau, the man was said to have been a military veteran who had erected a plaque outside his house on the party island that said he had diplomatic immunity. Another allegation said that he used the Gambian presidential plane to send military weapons to the embattled South Sudan.
He was one of nine men apprehended by officers investigating the illegal sale of more than 200,000 Kalashnikov AK-47s assault rifles, rocket launchers and military tanks. Amongst the arrests was one police officer.
A spokesman for the Spanish police unit that made the arrest said: "The billionaire ring leader was using an international network of companies and contacts to extort and receive payments for alleged arms trafficking, even using the presidential plane in Gambia to sell weapons to this country".
The billionaire is said to have links with bogus companies across Europe and Africa for money-laundering and tax evasion purposes, including in the UK, Belgium and France. He also used a violent criminal ring based in Holland to collect huge debts.
"On one occasion, they were sent to Marbella to collect four million euros," said the police spokesman.
The alleged ringleader was filmed being arrested inside his sea-view villa with a fleet of top-end cars outside. Police say he claimed to be an economic advisor to Guinea Bissau, but after checks officers realised that his passport expired.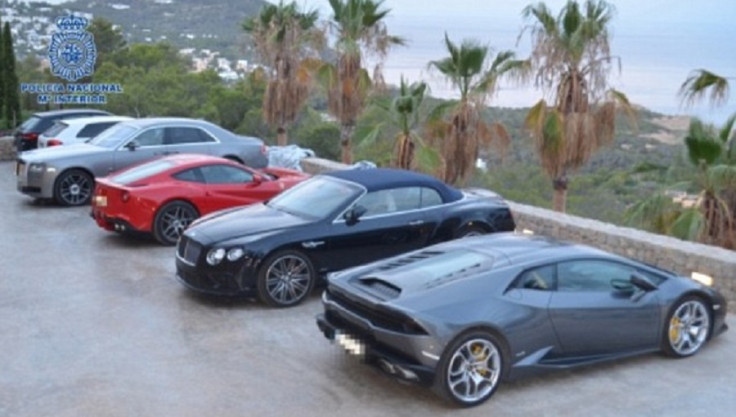 During The Night Manager, which was based on the John le Carré novel, an international arms dealing ring operating in Europe and Africa was uncovered with the help of Europol. In the series Hiddleston plays the role of Jonathan Pine who sets out to arrest arms baron Richard Onslow Roper, played by Hugh Laurie.