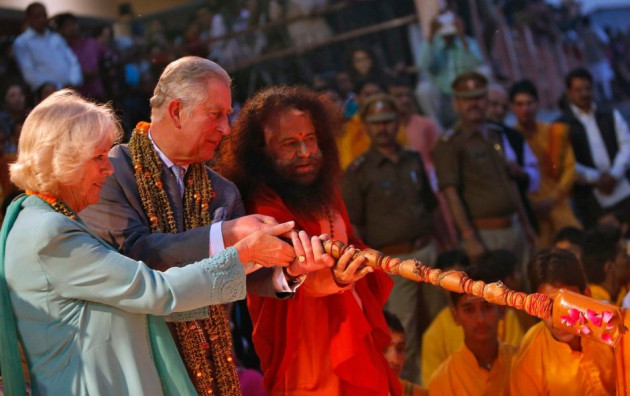 Amid seers and in a truly religeous way, Prince Charles and Camilla began their nine-day extensive India tour by offering prayer on the banks of the river Ganges.
The Prince of Wales and the Duchess of Cornwall, who is on their third visit to India together, took part in religious rituals near the sacred river in Rishikesh, about 225km north east of New Delhi, in the northern Himalayan state of Uttarakhand.
The royal couple were a part of the rituals at the Parmarth Miketan Temple, where Charles and Camilla were greeted with a huge common garland. They performed Aarti, the traditional Hindu ritual of worship by lighting oil lamps, offering to the river goddess and took part in the religious rites of a peace puja.
In June, a mountain flood in Uttarakhand wreaked much havoc in the region, claiming thousands of lives and destroying properties and infrastructure. The state, which gets its maximum revenue from tourism is reeling under the loss of tourists following the natural calamity.
Charles and Camilla's visit to the state is expected to bring back the tourists, local media reported.
Their Royal Highnesses' next leg of visit in Uttarakhand is the state capital, Dehradun where they will visit three world renowned institutions in Dehradun: The Indian Military Academy, The Forest Research Institute and the Doon School, according to Clarence House.
In the Doon School particularly, the royal couple will meet local women who are being helped by the school to finance their own self-employment projects.
Charles and Camilla arrived in New Delhi on 6 November where they were hosted by the president and the Vice President of India. The royal couple earlier visited India in 2006 and during the 2010 Commonwealth Games.
Their visit ends on 14 November. Scroll down to view the first photos from Charles and Camilla's India trip.