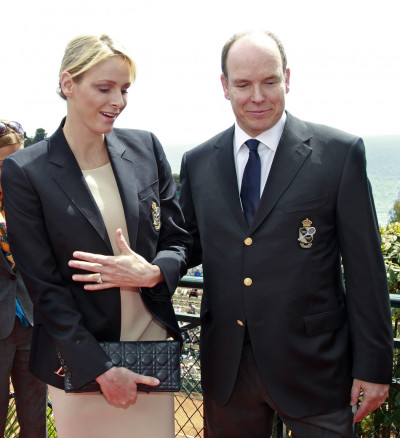 Displaying her love for monochromatic shades once again, Princess Charlene opted for a beige-coloured dress which she paired with a black coat during the 2012 Monte Carlo Masters on April.16.
The princess looked charming and elegant as she accessorised her dress with a black clutch and nude heels. However, she did her hair in her usual style by tying it back in a bun.
Although the princess had opted for gowns and dresses of different shades and prints in the past, time and again she has never faltered to display her preference for monochromatic hues.
The former South African Olympic swimmer was accompanied by her husband, Prince Albert II of Monaco who presented the Vermilion Medal for Physical Education and Sports (Medaille en vermeil de l'education physique et des sports) to Serbian tennis player, Novak Djokovic.
Established in the year 1939, the Vermilion Medal is awarded to outstanding individuals who contribute to the development of physical education and sports in the principality.
The Monte-Carlo ATP Masters Series Tournament attended by the royal couple is an annual tennis tournament that is a part of the ATP Masters Series on the Association of Tennis Professionals (ATP) Tour.
For the last 7 years in a row, Spanish player Rafael Nadal has won the tournament. His seven-year domination of the Monte Carlo Masters stands as the longest winning streak at a single tournament in the Open Era.
However, in 2011, Novak Djokovic beat him in back-to-back Masters Series finals, in Madrid and Rome.
"The fact of the matter is that he probably plays the best tennis in Monte-Carlo, at a clay court tournament aside Paris," Djokovic earlier said.
"He has won seven times in a row here. From a personal perspective, I think the conditions are slower than Madrid, which has altitude, Rome, Paris, so maybe that works in his favour more. We've played already here finals in 2009, good match, but Nadal is the ultimate challenge on clay. He's the king of clay. He's the best tennis player ever to play on this surface and one of the best tennis players ever, so that says enough," he further mentioned.
Start the slideshow to get a glimpse of Princess Charlene and Prince Albert at the 2012 Monte Carlo Masters: