She is known for having a venomous tongue, so getting Katie Hopkins to say something nice about anything, or anyone, can be like trying to get blood out of stone.
But this weekend the controversial columnist appeared to throw caution to the wind and let slip that she had taken a liking to Kate Middleton, the duchess of Cambridge.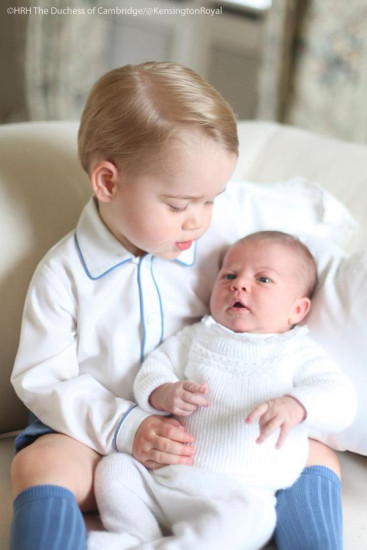 The miracle occurred after the release of the first official photographs of Princess Charlotte, the duke and duchess of Cambridge's second child. The picture, which is one of a set of four, was taken by the duchess at Anmer Hall, the royal couple's 10-bedroom country home in Norfolk.
Like many people, Hopkins could not deny that the charming snap of the little girl being held tenderly by her older brother Prince George was beautiful.
Taking to social media, the former Apprentice contestant praised Middleton as "a legend" and gushed about how adorable George was.
"Oh my word. Could he be any more cute? K-Midd is a legend. A white top on a boy... and still white by 10.30," Hopkins tweeted.
Princess Charlotte was born on 2 May, in the Lindo wing of St Mary's hospital. She arrived at 8.34am, weighing 8lb 3oz. An official announcement about the birth came just after 11.15am after the couple had informed their respective families.
She will be christened at St Mary Magdalene Church at the Queen's Sandringham Estate in Norfolk on 5 July. Archbishop of Canterbury Justin Welby will carry out the service.
Although Hopkins didn't have any compliments for Charlotte, she didn't slate the little girl either so there has definitely been some progress. Could the ice queen's heart finally be melting?
In December 2014 Hopkins said that she had been left impressed by Middleton's decision to go ahead with her trip to US despite being five months pregnant.
"I don't know how Kate Middleton does it. But the woman is fantastic," she wrote in her column in The Sun. "Fresh from three months of 24/7 morning sickness, she is up bouncing all over New York looking gorgeous everywhere she goes."
She added: "Most pregnant women milk it for all it's worth. Kate makes it look effortless and is endlessly interested in the people around her. She doesn't even own a resting face. Let alone a bitchy one."