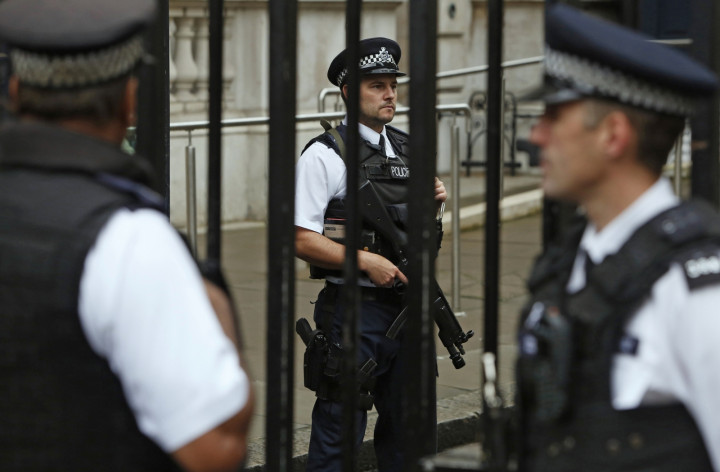 This year's Remembrance Sunday is one of the most heavily policed since the months following the London bombings in 2005 which killed 52 people.
Security was increased in London and other major UK cities as the terror threat was raised to "severe" – meaning an attack was "highly likely".
Fears were heightened after police made four arrests over a suspected Islamist plot to target London's Cenotaph, where the Queen laid the first wreath.
Four men, aged 19 to 27, were still in custody last night under the Terrorism Act after raids in High Wycombe, Bucks, and West London on Friday.
One was named as Yousaf Syed, 19, who lived in High Wycombe.
Refi Shafi, chairman of Wycombe Islamic Society, told the Mirror that Syed had started worshipping at his mosque two years ago, but recently dropped "off the radar."
He said: "He was an ordinary worshipper but he didn't go through our classes. He was never a regular attender for talks or anything like that. He would drop in and out, that was all."
The Metropolitan police security operation will focus on the Cenotaph in Whitehall where Queen Elizabeth laid a wreath in memory of those killed in major conflicts.
A Buckingham Palace source said: "Her Majesty would not miss the Remembrance Day ceremony – whatever the threat. It is a question of duty."
Snipers from the Metropolitan police Specialist Firearms Command (SO19) are said to be deployed on the rooftops surrounding government buildings, according to a Sunday Times report.
Specialist armed police, equipped with Tasers capable of firing 50,000 volts, Heckler & Koch G36C ultra-short assault rifles, and 9mm Glock 17 semi-automatic pistols, will also be present.
In recent weeks armed police have been stationed in Whitehall over concerns that terrorists could attack the ceremonial guards at the entrance of Horse Guards Parade.
Around 25,000 people are expected to attend the Cenotaph parade, which not only marks the First World War centenary, but also Britain's withdrawal from Afghanistan next month.
Sunday's event will be attended by Prime Minister David Cameron and Ed Miliband as well as other politicians and dignitaries.
Security expert Will Geddes, found of International Corporate Protection, warned the biggest problem police face are lone terrorists planning random attacks.
He said: "What we should really be concerned about are lone wolves – or as I prefer to call them stray dogs – the odd lunatic intent on doing their own thing."