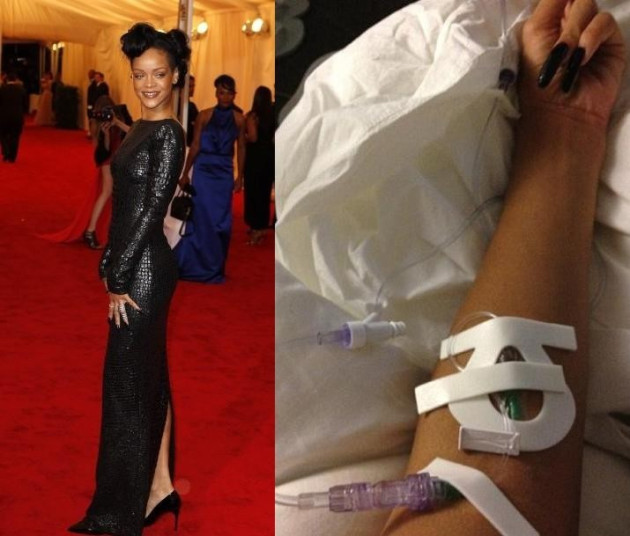 Rihanna has sparked fears for her physical and mental health after posting a picture of herself hooked up to a medical drip.
The 24-year-old singer was reportedly rushed to a New York hospital on Wednesday following a night of hard partying at the Met Gala.
In the disturbing snap posted on her Twitter page, she is shown with tubes in her forearm.
Although the songstress gave no explanation for her trip to the hospital, celebrity website Mediatakeout.com reports that RiRi was suffering from exhaustion and dehydration and had to be hooked up to an IV drip for fluids.
She later posted a picture of herself preparing to fly home, with the caption: "My ride home NY days LA nights."
Even though she was given the all-clear by doctors and allowed to fly back to her home in Los Angeles, the incident has left fans worried.
One fan wrote: "Rihanna loves to party but in the past month she has gotten out of control."
Another said: "OK please riri don't go down that road or you'll b in the next hotel room smh."
This is not the first time the We Found Love singer has had a health scare. In November she was forced to pull out of a concert in Sweden when she was taken to hospital and put on a drip.
Doctors said she was suffering a bad case of flu.