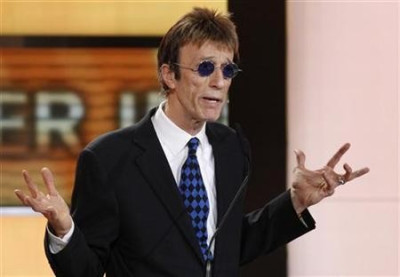 Robin Gibb has left doctors confounded after "overcoming incredible odds" and waking up from his week-long coma.
The 62-year-old Bee Gees star, who fell into a coma after contracting pneumonia in his battle with colon and liver cancer, made the miraculous recover days after his family started preparing for the worst.
According to a family spokesperson, the Saturday Night Fever hitmaker was conscious, lucid and able to speak to his family who have kept a bedside vigil in his London hospital room.
Drastic improvements allowed him to become alert and breathe with the help of an oxygen mask.
Dr Andrew Thillainayagam said: "It is testament to Robin's extraordinary courage, iron will and deep reserves of physical strength that he has overcome quite incredible odds to get where he is now."
Gibb was diagnosed with cancer in 2010 following bowel surgery. Doctors found a tumor and diagnosed him with cancer of the colon and later with cancer of the liver.
Robin Gibb is not the only celebrity to have come out fighting to pull back from the brink of death.
IBTimes UK has a look at other stars who have experienced miraculous recoveries.