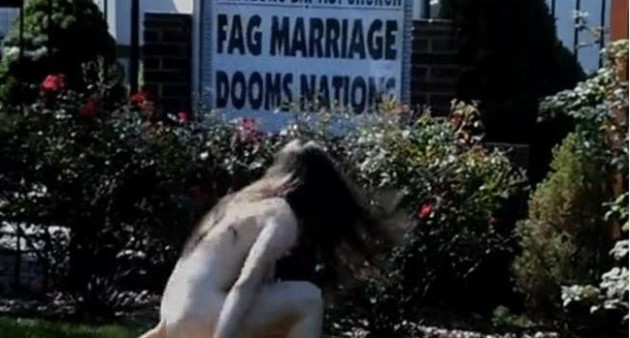 A Californian group who describe themselves as "the sleaziest punk band in the world" staged a controversial stunt by shooting a porn film on the front lawn of the Westboro Baptist Church.
Get Shot!, who also claim to be the first-ever band to have their own porn website, took a detour from driving to a gig in Denver to visit the controversial family church in Topeka, Kansas.
Once there, the band's bass player Laura Lush stripped and performed a lewd act directly in front of the ultra-controversial church, known for picketing funerals with 'God hates fags' placards.
Lush said: "The Phelps family and Westboro Baptist Church are ridiculous and do nothing except spread hate and cause controversy. As a bisexual woman and the bass player of a ridiculous punk band, I wanted to spread my legs and cause controversy."
The band said they were able to shoot the short film in broad daylight without being arrested by police. The video was then uploaded to their porn site getshotgirls.com, where it appears to have caught the attention of one of the Westboro members.
"Someone from your church's IP address spent 41 minutes looking at our website," the band tweeted. "That's longer than the video on your lawn!!!"
Lead singer J.P Hunter added: "There was a lot of traffic and we saw a few cops at a coffee shop a few blocks away. We barely had enough gas money and cocaine to make it to Denver for our next concert.
"Since we can't afford bail, we had to cut it a little short before the cops got called. If someone will bail us out, we will bring a group of girls and a whole camera crew when we come back in a few months."
Get Shot! also sent a tweet to Shirley Phelps-Roper of WBC to request footage of the surveillance video because "it probably caught a few good angles" that the band missed because of an iron fence surrounding the church.
The band claims that undercover police officers have attended their gigs in the past to see if public indecency or drug use occurs on stage.