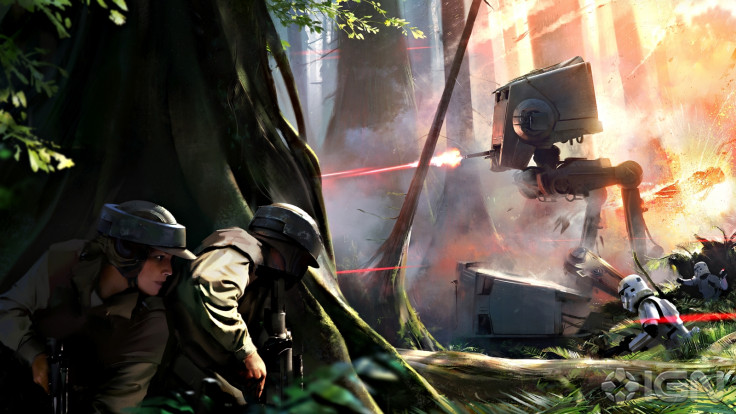 Star Wars Battlefront will see the return of a beloved franchise thanks to a development team more than fit for the task.
DICE has taken a break from its Battlefield franchise (handing the reins to Visceral for a brief time) to bring large scale warfare in the Star Wars universe back to gaming after ten long years of fan wishes.
Ahead of a full reveal set for spring, EA and DICE have shown off some amazing concept art depicting a very familiar looking war on the forest moon of Endor.
IGN had the initial reveal, describing the "pair of Rebels - a woman with a standard blaster, and a man with a scoped rifle - flanking a pair of Stormtroopers – one with his rifle at the ready, the other priming a Thermal Detonator."
DICE's Nick Fegraeus also talked to IGN about the game, revealing particular maps have been made with certain game modes in mind.
"The scale of our maps and modes offer a great variety," he said. "We have actually made the decision to specifically tailor certain maps to certain game modes, and what we get from that is not only incredibly varied scales, but also gameplay that will allow players to live out some of their most memorable Star Wars battle fantasies."
More information, and probably some gameplay will follow in the coming months. One popular prediction among fans and spectators is that a multiplayer Battlefront beta will be attached to Visceral's Battlefield Hardline, which is set for release in March.
Star Wars: Battlefront is expected to be released later this year to tie into the release on Star Wars: Episode VII – The Force Awakens in cinemas.
During an earning's call this week EA CFO Blake Jorgensen said the game's launch will be a "very large activity" for EA, with a comparative marketing push to the Battlefield series.