Saturday Night Fever on Strictly Come Dancing as Disco Diva Abbey Clancy scores the First 40 of Series
Clancy Turns Disco Diva on Strictly Come Dancing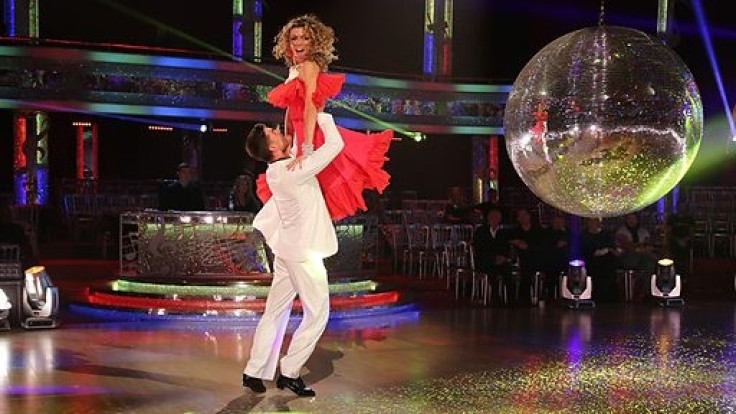 Abbey Clancy tore up the dance floor on Saturday night's (30 November) Strictly Come Dancing with a disco turn that sent everyone into fever pitch.
Musicals night brought out the best in all of the dancers, but Clancy danced supreme, wowing the judges with her funky, flawless footwork scoring her the maximum 40 points, the first of the series.
Dancing the Salsa to the Bee Gees hit You Should be Dancing from Saturday Night Fever, Clancy's dance partner Aliaz Skorjanec channelled his inner John Travolta, donning a classic white suit to live out every red-blooded man's dreams of becoming Tony Manero.
Looking stunning in a hot, red dress with tiered skirt and her blonde locks cascading in loose Farrah Fawcet inspired curls, Clancy was the ultimate disco diva, as the ballroom was transformed into a disco, complete with giant glitter ball and illuminated dance floor.
Commenting on her breathtaking performance the judges could barely contain themselves. "There's fever in this ballroom, everyone has upped their game. That was great," exclaimed Goodman.
"Oh Abbey, the disco Diva. You were dancing between two professional girls. I could not tell the difference," said Bruno Tonioli.
The usually verbose Craig Revel-Horwood was almost lost for words. "I thought it was absolutely amazing," he said. While Darcy Bussell described it as a "five star performance. Mesmerising."
On hearing the judges scores the Scouse beauty said: "I can't believe it."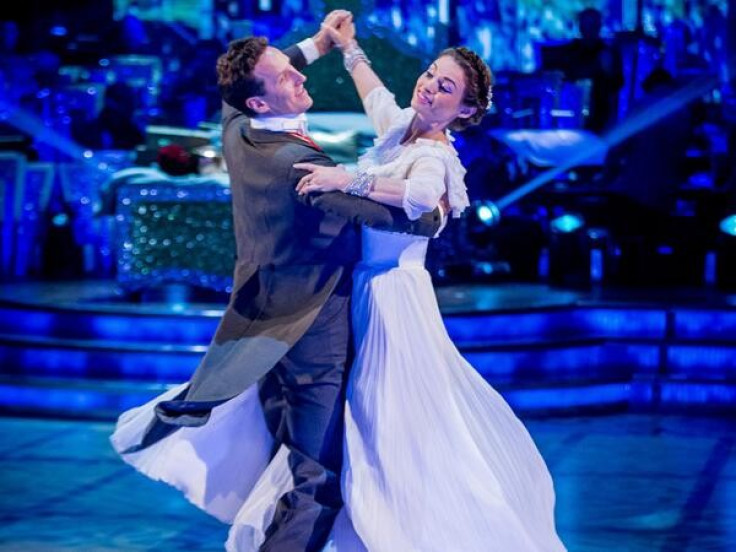 After taking a roasting from the judges last week, all of the dancers seemed to have upped their game with musicals night showcasing their skill midst all the spectacle of a West End stage, with a flying carpet, a replica Chitty Chitty Bang Bang and a sea of sailors in a stunning opening sequence.
Dancing the Charleston to the title song from Chitty Bang Bang, Patrick Robinson and dance partner Anya Garnis got the show off to a flying start, literally, as the 50-year-old Casualty star descended onto the stage in a replica of Caractacus Potts' four-fendered friend.
With the professional dancers hailing his performance as the "dance of the series" the judges were also impressed with the 50-year-old flying machine's nifty footwork.
"That was full of flash bang wallop. It was a show stopper!" said Goodman "Chitty Chitty Bang Bang, retuned by McClaren, driven by Hamilton going for the Grand Prix. As far as I'm concerned you won it," said Tonioli in his colourful style.
Pop star Sophie Ellis-Bextor and partner Brendon Cole meanwhile, captured all the innocence of Julie Andrews and the quiet dignity of Christopher Plummer's Captain von Trapp as they performed a Viennese Waltz to the song My Favourite Things from 1965 Rodgers and Hammerstein classic The Sound of Music.
The performance, said Bussell would have them waltzing straight into the semi-finals.
"Your style was stunning. A classic Viennese Waltz for me. You're going to be spinning into the quarter finals. I can't wait to see you there," she said.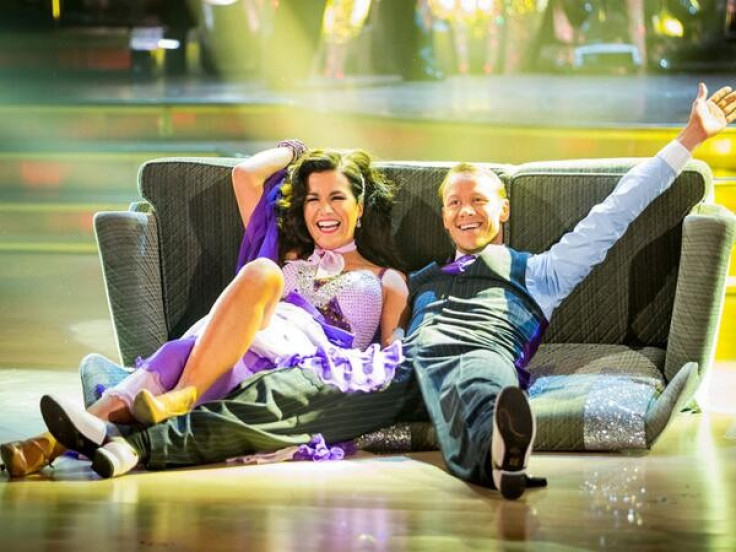 While BBC Breakfast's Susanna Reid didn't entirely win over all the judges, Bruno Tonioli was taken with her Quickstep to the Debbie Reynolds track Good Morning from Singing in the Rain.
"You capture the spirit of the film perfectly. News reader by day, a musical star by night, he pronounced. "I'm not sure about that," replied Reid. "The BBC breakfast viewers might complain."
Bringing up the rear with a score of 29 and the fewest points of the night, actor Mark Benton was overwhelmed by the experience. At the end of his jaunty Lion King inspired Samba, an emotional mark said he was "lost for words."
"Full of shimmies, full of rhythm, full of camp, which suits my nature," said Revel-Horwood. "That technically is your best to date," he added.
Having beaten Ben Cohen in the dance-off to survive another week, it seems even Benton supects his lucky run is coming to an end. "Noone has survived four dance offs," he said.
While the 48-year-old looks like a dead cert to face his fourth dance-off on Sunday, it would be difficult to call it, with all the contestant's performances making for a spectacular night's TV viewing of song and dance on Strictly. But, there was no doubting, the night belonged to Abbey Clancy.
The exuberant Bruce Forsyth summed it up. "I don't think we've had a night of dance like this," he said. "At this stage in the competition we have never had a night like this. This is like a final."
Find out who will be dancing their last dance on The Strictly Come Dancing Results show on BBC 1 on Sunday 1 December at 7.20pm
© Copyright IBTimes 2023. All rights reserved.