Celebrities are appealing to increase the £1m charity money raised by a terminally ill teenager with a "thumbs up for Stephen" Twitter campaign.
Stephen Sutton, who was diagnosed with incurable colorectal cancer when he was 15, managed to raise more than £1m for Teenage Cancer Trust after he posted what would be his final update on Facebook.
Sutton, 19, from Burntwood in Staffordshire, has been keeping a blog on various social media sites where he ticks off as many of his 46 items on his 'bucket list' as possible.
After starting the list last January, Sutton managed to complete all but 11 of his wishes, including skydiving, crowd surfing in a rubber dingy at a gig and drumming to 90,000 people at Wembley Stadium, all while raising money for charity.
In many of the photos Sutton posted to his Twitter or Facebook account documenting his bucket list attemp, the teenager can be seen posing with both thumbs up.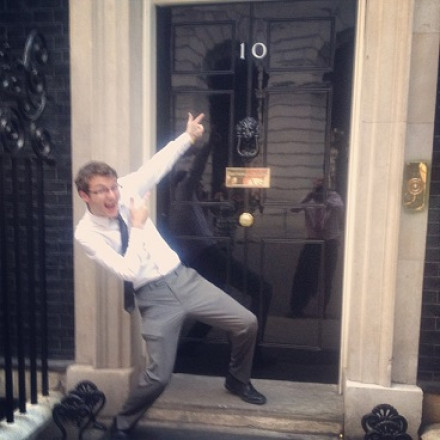 After posting an update to his thousands of online fans that his health had deteriorated, Sutton uploaded a photo of himself giving his "final thumbs-up" and thanking everyone for his support.
After originally aiming to raise £10,000 for charity – his first item on his bucket list – Sutton's JustGiving Page saw a rapid increase in donations follwoing his "farewell" post, with the number soon hitting more than £1m.
Celebrities are now appealing for people to continue donating to Sutton's cause and show their support with a #ThumbsUpForStephen hashtag on Twitter.
Comedian and actor Russell Brand and Olympic cyclist Chris Hoy are just some of the famous names who have urged their fans to donate to the charity.
Comedian Jason Manford, who originally helped Sutton's campaign go viral, said he now wants to break the £2m mark with the campaign.
"Talk about inspirational, some of the stuff he is coming out with for a lad of 19 is amazing" he told ITV News: "He wasn't even bitter about having a short life. It was like he wasn't angry he was having to leave the party early – he was just happy that he'd been invited."
Kate Collins, a director at the Teenage Charity Trust, told BBC News Sutton's contribution is "making the most transformational difference" for the charity.
Other tasks Sutton completed on his list included giving a speech about his battle with cancer at 10 Downing Street, getting a tattoo and watching a live Champions League football game.