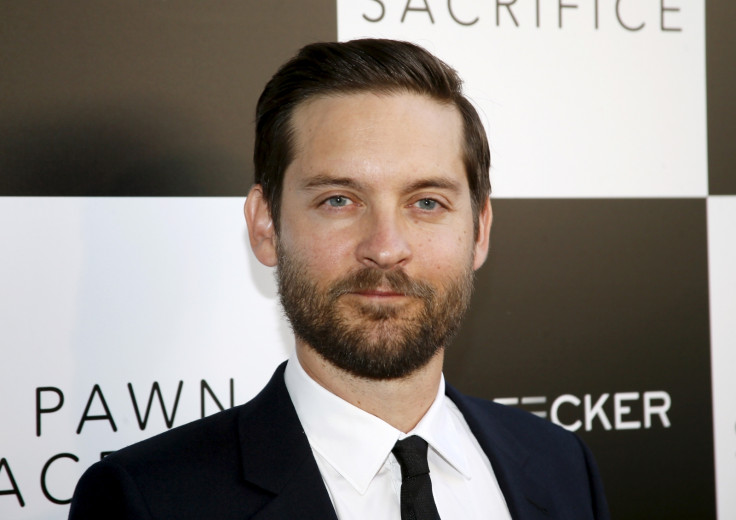 Tobey Maguire was pictured kissing a mystery woman outside a Los Angeles hotspot just two months after his split from Jennifer Meyer. The Spider-Man actor and Jennifer Meyer were married for nine years before they announced their separation in October.
According to HollywoodLife, Maguire and the mystery brunette were spotted locking lips for several minutes outside the Villa Lounge in West Hollywood. The duo could not keep their hands off one another before parting ways with the 41-year-old actor pulling the woman closer for one last kiss.
Before the mystery woman got into a black SUV, Maguire was also seen saying goodbye to another woman outside the Villa Lounge.
Maguire and Meyer announced their split on 18 October but were said to living separate lives since the beginning of summer.
"After much soul-searching and consideration we have made the decision to separate as a couple. As devoted parents, our first priority remains raising our children together with enduring love, respect and friendship," the former couple had said in a statement.
Maguire and Meyer first met each other in 2003 and share two children together - Ruby, 9, and Otis, 7.
Earlier, Maguire was rumoured to be dating Sofia Richie after they were pictured getting cosy at 1 OAK nightclub on 1 October. But when the 18-year-old model was asked if she was dating Maguire, the younger daughter of Lionel Richie said: "Are you f**king joking?".
When asked if Maguire was "too old" for her to be dating, she had said: "What kind of dumb question is that?"