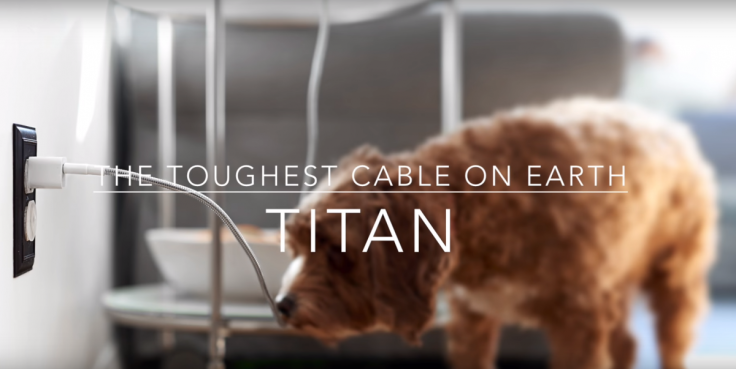 A smartphone charging cable has hit the market that can not only put a stop to frayed cords following the unwarranted chewing escapades of a rogue cat, but can also withstand the gnashing jaws of an industrial chainsaw.
The excessively brawny cable from [Fuse]Chicken with an appropriately heroic moniker, the Titan cable – available for both iOS and Android devices – is described by the manufacturer as "the toughest cable on Earth".
We are not sure exactly why someone would find themselves in a situation where an innocent iPhone charger would be cruelly subjected to the grinding blades of a chainsaw or asked to be used as a makeshift pull-up rope, but you can see the cable's creators doing just that in the below video.
The video's "do not try this at home disclaimer" is suitably silly considering your average smartphone owner likely tries to keep DIY tools separate from their mobile devices and accessories, but at least the cable could double up as the world's most lethal skipping rope.
According to the product listing the Titan cables are "wrapped in not one, but two layers of flexible, high-strength steel," while also having ensuring that the Lightning and USB connectors "are permanently sealed with a one-piece housing fused directly over the electronics and metal cabling."
Also available as a portable keychain for individuals with presumably high-octane lifestyles involving knifes, saws and hammers, this kind of cable likely will not become the stock out-of-the-box accessory for smartphones any time soon. Plus, where is the USB Type-C variant?
You can find out more about the Titan at the [Fuse]Chicken website, although anyone with the need for a new iPhone cable might find a cheaper, less absurdly impractical solution at a local high street retail stores.