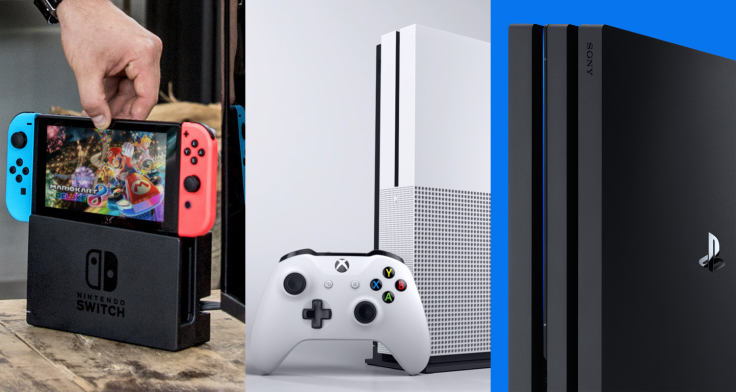 This week's round-up of the best video game deals and discounts in the UK includes bundle deals for the Nintendo Switch, 1TB PS4 Pro and both versions of the Xbox One S, as well as a slew of discounts on video games old and new.
Each PS4 Pro bundle comes with Horizon Zero Dawn, while each Xbox One S comes with Forza Horizon 3. The gaming side includes Uncharted 4: A Thief's End for £17.95, if you haven't played the Bafta-winner already.
There's also BioShock: The Collection for £19.99, Titanfall 2 for £19.95, Tom Clancy's The Division for less than a tenner and every episode of our Game of the Year for 2015 Life is Strange for just £4 on the Microsoft Store.
Thanks as ever to Hot UK Deals for providing this week's list.
Consoles
Nintendo Switch Console (Neon) with Lego City Undercover - £299.99 @ Argos
PS4 Pro 1TB with Horizon Zero Dawn - £349.99 @ Game
PS4 Pro 1TB Console + Horizon Zero Dawn - £344.86 – Shopto
PS4 Pro 1TB with Horizon Zero - £349.99 @ Argos
Xbox One S 1TB with Forza Horizon 3 & free Controller - £269.99 @ Microsoft Store
Xbox One S 500GB Forza Horizon 3 Bundle Delivered £199.85 @ Shop To
Games
BioShock: The Collection [PS4 / Xbox One] £19.99 @ Smyths
Uncharted 4: A Thief's End [PS4] £17.95 @ The Game Collection
Titanfall 2 [PS4] £19.95 @ The Game Collection
Uncharted: The Lost Legacy with Jak and Daxter: The Precursor Legacy [PS4] £25.85 @ Base
Uncharted: The Lost Legacy [PS4] Pre Order £26.86 @ ShopTo
Tom Clancy's - The Division [PS4 / Xbox One] £9.99 @ Game
Catherine [Xbox One & Xbox 360] £2.24 @ Xbox Store
Life is Strange Complete (Episodes 1-5) [Xbox One] £4 with Xbox Live Gold membership (£5.28 without) @ Microsoft Store
Deus Ex: Mankind Divided - Day One Edition [PS4 / Xbox One] £7.99 - Go2Games
Dying Light: The Following - Enhanced Edition [PS4] £12.69 @ Base
Legend of Zelda: Breath of the Wild Limited Edition [Nintendo Switch] £69.99 @ Smyths Toys
Resident Evil 4 HD Remake [Xbox One] £13.99 @ Base
Accessories
PS4 Dualshock V2 Controller Black - £36.85 @ ShopTo
Xbox One Controller + Halo 5 + £5 credit + 3 months Xbox live £59.99 @ Game
For all the latest video game news follow us on Twitter @IBTGamesUK