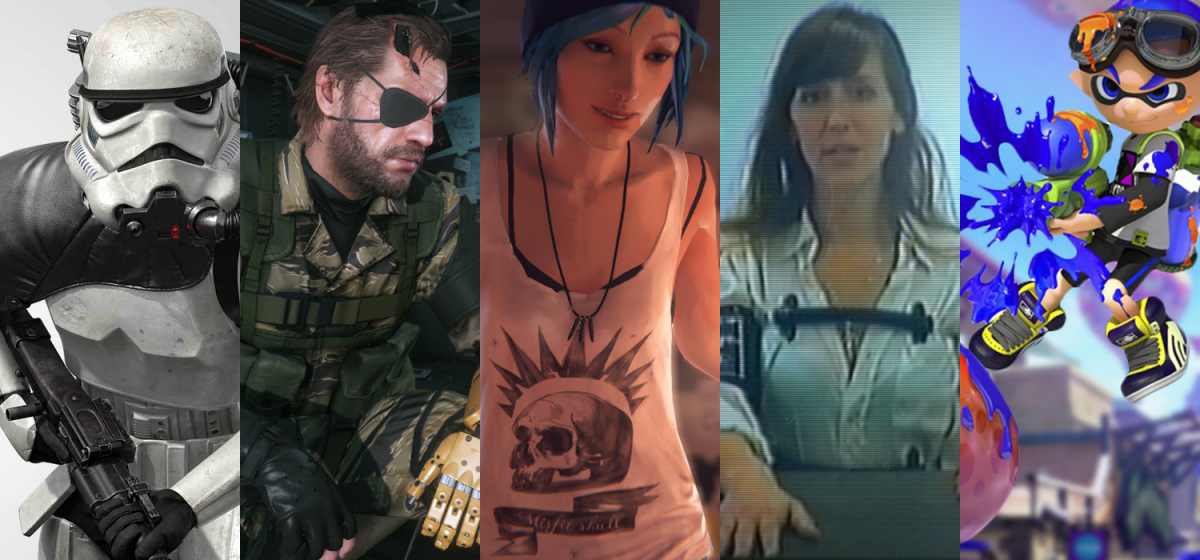 What a year it has been – a return to form for the industry and the blossoming of this current console generation. There have been indie delights on all platforms, triumphant big budget franchise returns, resurgent sports games, open world titles have reached new heights and shooters have offered more variety than ever before.
Below I run through my 10 favourite games of 2015, from my top title through to number 10. It is, of course, a list subject to what games I played and my own personal tastes. If a game you like does not appear below, it is because I either did not play it, or liked at least 10 games more!
A special shout out to wonderful sci-fi indie metroidvania Axiom Verge, which very narrowly missed out.

Following episode four of Dontnod's supernatural mystery, it became clear Life Is Strange would top my game of the year list – so long as the finale delivered on all its promise. Sure enough it did, rounding off a fantastically told coming-of-age tale about mystery, murder, friendship and time-manipulating superpowers.
There were hiccups (episode three disappointed and the dialogue was occasionally a little wonky) but Life Is Strange told the best story of the year and made the players a key component of that, with a web of dialogue trees and ambiguous decisions that impacted the tale, but also, most crucially, helped shape the character of protagonist Max Caulfield. Unforgettable.
Read more: Our interview with game directors.

In Her Story, the player is cast as someone using an ageing computer system to search through old, broken and jumbled up video clips from a series of police questionings relating to a murder investigation, in the hope of piecing together what happened.
Developer Sam Barlow's game intrigues with its set-up but grips players with the small moments. Cracks of lightning revealing a reflection on the in-game screen, small snippets of dialogue delivered perfectly by Viva Seifert as the lone subject of the videos, and of course, the moments of realisation when the pieces start to fall into place. Riveting and essential.
Read more: Our interview with Sam Barlow.
No game on this list is perfect. In fact, Metal Gear Solid 5 may be the most flawed of the 10 – due to its complete narrative derailment in the final act. The Phantom Pain ranks so highly on our list despite this, though, because mechanically it is nigh-on perfect.
It is the greatest open world stealth game ever made because every facet of its gameplay fits together perfectly, assembled with the precision of clockwork and the effortless results to match. Also, you can attach balloons to sheep.
Read more: How Hideo Kojima questions his legend in MGS5.

To think there was ever any doubt about Splatoon. Nintendo making a competitive online shooter in which the objective is to shoot anything but opposing players is about as Nintendo as it gets, and in action the concept works brilliantly.
Players take on the form of Inklings – kids who can transform into squid – using ink guns to coat levels in their team's colour. The team with the most amount of coverage wins. Nintendo's pitch-perfect decision to release regular free-updates for months following release (and the updates are still coming) added a great deal to Splatoon's success.
Read more: Our review of Splatoon.

In our review of Battlefront, we described it as a simpler shooter deliberately targeting a casual market that will make up most of the new film's huge audience. This is why some people – more used to in-depth shooters – have rallied against DICE's game and that's unfair.
Battlefront is the best-made game on this list. It is the best-looking game of the year. It makes perfect use of the saga's iconic score (delving deep into every track available) and provides plentiful thrills mixing game-conquering highs with a delightful burst of nostalgia.
Read more: Ranking every mode in Star Wars Battlefront.

6. The Witcher 3: Wild Hunt (CD Projekt Red)
The reason The Witcher 3 does not rank higher on this list is because I have "only" played it for 25 hours. I am not even close to halfway through but I have already seen enough to make it my sixth favourite game of 2015. The Family Matters quest line alone is game of the year material.

A late entry on this list, Rainbow Six Siege – despite two troubled beta tests – actually managed to deliver on its promise of being a tense and fulfilling tactical shooter. Of all this year's shooters (and to my surprise there are four on this list), this is the one that offers the most in its gameplay due to its destructible environments and roster of characters with unique abilities.

At last 343 Industries delivers a Halo game worthy of the Bungie classics. That is no slight on Halo 4 but recognition of Halo 5's achievements. It is absolutely gorgeous for the bulk of its run and 343's prowess as an intelligent developer shines with the inclusion of new multiplayer mode Warzone and the scaling resolution that ensured a steady 60 frames per second. Some said Master Chief was not in it enough; I argued it would have been even better without him.

Free of the messy confines of the reboot, Rise Of The Tomb Raider allowed Crystal Dynamics to let Lara Croft be Lara Croft – not a mass-murdering victim but the hero adventurer fans know and love. The developer also improved pretty much every aspect of the original (save the still-tepid story) and this time delivered tombs that were fun and plentiful.

Rocket League was made available for free to PS Plus subscribers on PS4 when it was released in July, which is how it quickly became the surprise hit of the summer. For a few weeks the industry could talk about little else; it even took the limelight away from Rocksteady's great but somewhat disappointing Batman: Arkham Knight. Still a popular and incredibly fun game many months later.
For all the latest video game news follow us on Twitter @IBTGamesUK.