Video game industry speaks out against President Trump's Muslim travel ban
"We have been, we are and we always will be a nation of immigrants," Insomniac Games CEO Ted Price said.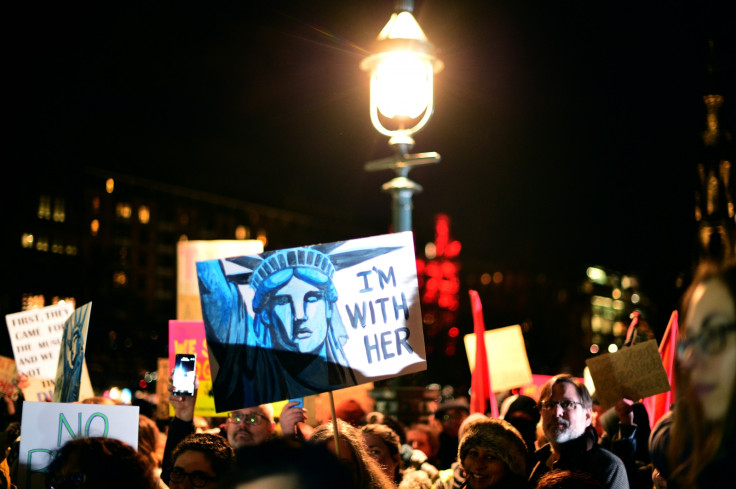 As protests erupt across the US and around the world in response to President Donald Trump's travel ban on citizens of seven predominantly Muslim countries, the video game industry has also hit back over the controversial order.
The Entertainment Software Association (ESA), which organises the annual E3 gaming trade show, has urged the White House to "exercise caution with regard to vital immigration and foreign worker programmes".
"As a leading force in technology and exporter of entertainment, the US video game industry thrives on the contributions of innovators and storytellers from around the world," the group said in a statement. "While recognising that enhancing national security and protecting our country's citizens are critical goals, our companies rely on the skilled talent of US citizens, foreign nationals and immigrants alike.
"Our nation's actions and words should support their participation in the American economy."
EA CEO Andrew Wilson wrote in a message to employees that as a foreign national who spent his career working across the globe, he is proud to be living with his family in America.
"We reject actions that diminish our principles of diversity and inclusion that are central to our company," Wilson wrote, Venture Beat reports. "Immigration has shaped the organisation we are today, and, for many of us, it is a central part of our own lives or those of our families and friends.
"The value of teamwork underlies everything we do here – it shapes who we are and how we operate. So now, more than ever, as One Team we are here to support our people."
He added that the gaming giant has a large number of foreign national employees and is working to assist those who may be affected by the order.
"Is this the American way?" Insomniac CEO Ted Price said in a statement. "Is discriminating based on religious faith or national origin American? Absolutely not. This is a deplorable, discriminatory act that we and many others across the nation believe is patently unconstitutional. We have been, we are and we always will be a nation of immigrants."
Like many major technology companies, multiple gaming companies and developers voiced their opposition to the order over the weekend saying it would not only harm their current employees but also affect their ability to competitively recruit talent from overseas.
British game developer and former Sony executive Shahid Kamal Ahmad has already taken to Twitter saying he will not be attending the Game Developers Conference which runs from 27 February to 3 March in San Francisco. The GDC said they are "horrified by the Muslim ban", will refund affected attendees and "keep fighting for inclusivity".
The International Game Developers Association told Polygon that just two of its 8,000 members come from of the seven countries affected by Trump's travel ban, which include Iran, Iraq, Libya, Syria, Yemen, Somalia and Sudan.
"That being said, the issue isn't necessarily the effect on these specific countries but on the general spread of xenophobia in the US government and how it will certainly affect the US' ability to hire talent and remain globally competitive," IGDA executive director Kate Edwards said.
"We stand in absolute opposition to any policy in any government that would seek to unduly restrict an individual's ability to pursue their creative passion and chosen career path in game development."
Canadian-Iranian Navid Khonsari, the creator behind choice driven, narrative game 1979 Revolution: Black Friday, also confirmed to the publication that he has cancelled his international travel plans for the next 90 days since he is not sure if he will be allowed to return to the US. He has lived in the country as a legal permanent resident for 17 years.
"My setbacks from this uninformed, cowardly, ignorant and racist action pales in comparison to the hardships of so many others," Khonsari said. He added that more than 400 colleagues in the gaming industry have already contacted him in the last few days to offer their support. "This humble position reminds me of why I made 1979 Revolution - we must learn from history and not repeat it," he said.
© Copyright IBTimes 2023. All rights reserved.