The Walking Dead season 6: Daryl, Rick and Carol get cheeky in first look photo shoot [Spoilers]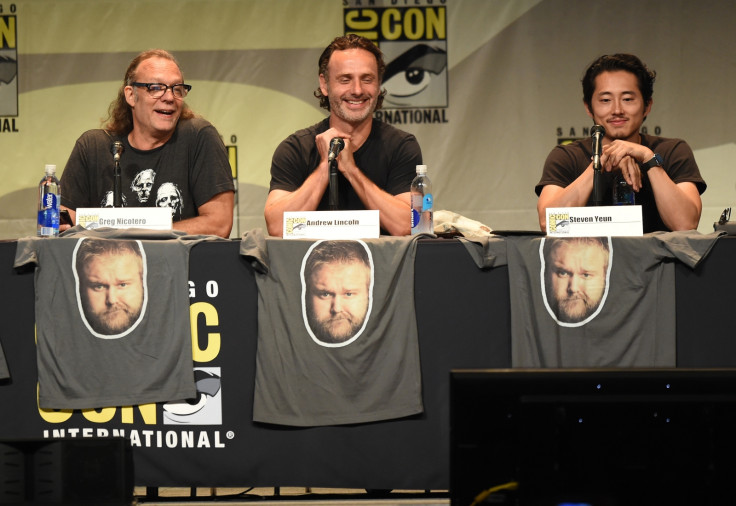 The bromance between best friends Rick Grimes and Daryl Dixon is well and truly alive judging by their Entertainment Weekly cover. In addition to the first look of season six, showrunner Scott M Gimple has confirmed which comic book characters will be heading to Alexandria in the upcoming episodes.
In one of the images from the shoot, which was photographed by Dan Winter, survivors Daryl (played by Norman Reedus) and Rick (Andrew Lincoln) stand side by side, grabbing each other's bums with mother hen Carol, played by Melissa McBride, in the middle, glancing back towards the camera with a wry smile.
Viewers of AMC's zombie series will be pleased to see the trio back in action and still the best of friends following a tumultuous and testing season five, which saw Rick experience a meltdown, Daryl struggling to adapt to their latest sanctuary and Carol turn increasingly manipulative.
Recalling the bum-grabbing photo, EW's picture editor Michele Romero said: "Reedus and Lincoln gave us something a little extra — taking their bromance to a whole other level. I love this picture because it just happened organically. Everyone needs a cheeky Norman Reedus."
With just two months to go until the season premiere, details about the upcoming season are slowly dripping through and viewers can expect some new faces but familiar characters to arrive in the Alexandria Safe-Zone. Executive producer Gimple has revealed Merritt Wever will be playing Dr Denise Cloyd, a doctor who will become pivotal to the community.
Ethan Embry, most recently seen in Netflix series Grace And Frankie, will also be joining the cast playing Carter, described as "a composite of different people from the original comic". The season six trailer that debuted at Comic-Con shows Carter disturbing the peace at Alexandria, hinting he could become a new problem for Rick and co.
Following the season five finale episode in March, IBTimes UK spoke to Lincoln and executive producer Greg Nicotero about what is in store for the exhausted survivors and they warned there will be more of Carol's slightly sinister side coming to play. Lincoln said: "I absolutely love working with Melissa McBride because when you're doing a scene with her, you don't know what she's going to give or how she's going to respond. It's great fun."
Nicotero added: "She does [scare us], it's fascinating. I love the transition when she realises that Pete is abusing Sam and Jessie, I love the transition." The Walking Dead's season six is set to premiere in the US on 11 October while its spin-off series, Fear The Walking Dead, will arrive on 23 August.
© Copyright IBTimes 2023. All rights reserved.