WWE Payback 2015 airs live on the WWE Network this Sunday, 17 May as the event takes place in Baltimore, Maryland, US. The event holds an exciting lineup of matches and fans should expect a ton of action and entertainment.
Check out the show's lineup below:
Kickoff match
Axel and Mandow vs The Ascension
Macho Mandow and Curtis Axel will try to recapture the magic of The Mega Powers when they battle The Ascension on the WWE Payback Kickoff show.
WWE World Heavyweight Championship - Fatal 4-Way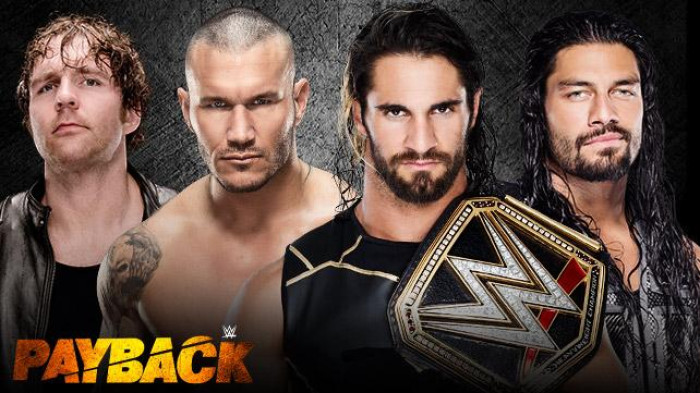 WWE World Heavyweight Champion Seth Rollins will defend his title against Randy Orton, Roman Reigns and Dean Ambrose in a Fatal 4-Way Match with Kane's job at stake.
United States Championship - 'I QUIT' match
John Cena vs Rusev
The intense rivalry between United States Champion John Cena and Rusev will hit a new apex at WWE Payback, when the two proud warriors meet in an "I Quit" Match.
WWE Tag Team Championship - 2-Out-Of-3 Falls Match
The New Day vs Cesaro and Tyson Kidd
Can Cesaro & Tyson Kidd regain the WWE Tag Team Championship from The New Day when they take on the positive titleholders in a grueling 2-out-of-3 Falls Match.
Sheamus vs Dolph Ziggler
If any Superstar is out for payback this Sunday, it's Dolph Ziggler against Sheamus.
King Barrett vs Neville
King Barrett will go head-to-head with Neville, in a battle which could bring the monarchy to new heights.
Naomi and Tamina vs The Bella Twins
Divas Champion Nikki Bella and her sister Brie will stand toe-to-toe against the formidable twosome of Tamina & Naomi.
Ryback vs Bray Wyatt
Two titans will clash when The Human Wrecking Ball, Ryback, goes head-to-head with The New Face of Fear, Bray Wyatt.
WWE Payback 2015 pay-per-view (PPV) can be viewed live at 8pm ET, this Sunday (17 May), on the WWE Network.
You can click here or here to watch it online via live stream.
WWE Network is also offering a free live stream of the Extreme Rules 2015 Kickoff show starting at 7pm ET. You can watch it live online below: