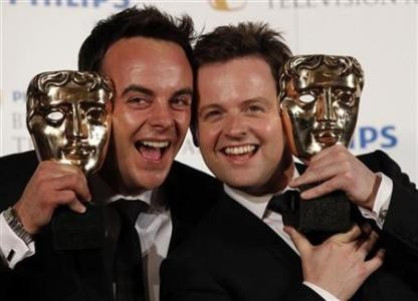 They rose to fame after breaking on to our screens as PJ & Duncan in Byker Grove, but Ant and Dec's 20-year friendship could be about to face its biggest test yet.
A survey has revealed that almost three in four British women would prefer to sleep with Declan Donnelly over his Britain Got talent co-host and best friend Anthony McPartlin.
According to the poll commissioned by dietary foods company Sweet'N Low, 72 per cent of the nation's women believe the petite presenter would be a better lover. One woman said she thought he would be a "tiger between the sheets".
The study, which questioned 4,000 UK women, also found that more than three quarters put McPartlin in the 'friendship zone' with 81 percent saying they would rather share a cup of tea and a chat with him.
Donnelly was crowned the favourite of the TV double act after pipping his pal to the post with 54% of the vote.
Sweet'N Low brand manager Phil Dorrell said of the poll: "Ant and Dec are well on their way to becoming national treasures, so it was interesting to see which of the two was the UK's favourite.
"Though Ant was a popular choice, it seems that British housewives ultimately wanted to see Dec on top."
Last month the duo's 1994 hit, Let's Get Ready To Rumble, went straight to No 1 in the UK chart after they performed the track on their Saturday Night Takeaway.