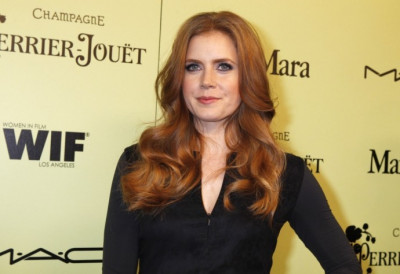 American actress/singer Amy Adams was upset after Italian fashion house Valentino promoted the brand's handbag that she took to Philip Seymour Hoffman's funeral.
Adams was photographed carrying a burgundy Valentino bag, attending the wake for Hoffman at Frank Campbell Funeral Home on Madison Avenue in New York with her fiance Darren Le Gallo.
The press release sent out by the brand's representative Upasna Khosla stated: "We are pleased to announce Amy Adams carrying the Valentino Garavani Rockstud Duble bag from the Spring/Summer 2014 collection on Feb.6 in New York."
USA Today entertainment reporter Donna Freydkin expressed her horror over receiving the press release via e-mail.
"Just got a press release naming the handbag Amy Adams was carrying while in NYC for PSH's funeral. #tasteless #ew," Freydkin tweeted.
The 36-year-old American Hustle star's publicist denied that she is associated with the brand.
"Amy Adams is not a paid spokesperson for Valentino and the suggestion she would use this moment to participate in a promotion is truly appalling," the statement read.
Following the backlash, the company later issued an apology.
"We sincerely regret releasing a photo to the media this morning of Amy Adams with a Valentino bag. We were not aware the photograph was taken while she was attending the wake of Philip Seymour Hoffman. It was an innocent mistake and we apologize to Ms. Adams who was not aware, or a part of, our PR efforts," spokeswoman Mona Swanson said.
Meanwhile, celebrities who attended the ceremony along with Adams included Joaquin Phoenix, Michelle Williams, Jake Gyllenhaal, Meryl Streep, Cate Blanchett and Justin Theroux among others.