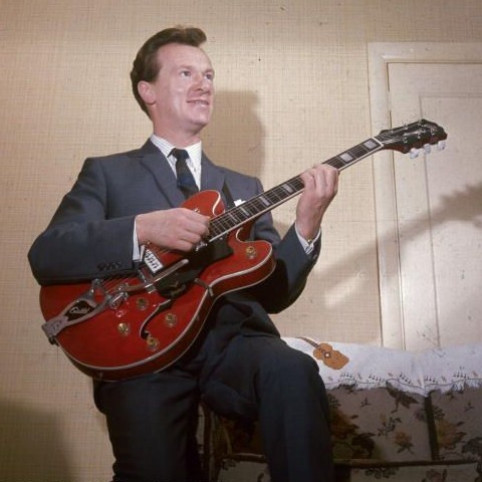 Influential guitarist Bert Weedon, best known for creating the popular tutorial Play in a Day, has died aged 91.
Eric Clapton, Brian May and Sir Paul McCartney are among those who who learned how to play guitar from Weedon's books.
The guitarist, who was born in East London, had "been poorly" for a while and died at home in Beaconsfield, Buckinghamshire, a friend confirmed.
Weedon's first Play In A Day book was published in 1957 and went on to sell millions, becoming a vital reference tool for anyone who wanted to play guitar for decades to come.
He was awarded an OBE in the 2001 Queen's Birthday Honours List for his services to music.
According to his official online biography, he convinced his father to buy him his first guitar in London's Petticoat Lane market when he was 12 years old. It cost 75 pence.
Weedon was the first British guitarist to have a hit on the UK singles chart with Guitar Boogie Shuffle in 1959.
In 1976 he became the first solo guitar player to top the Official Top 40 album charts with 22 Golden Guitar Greats.
Throughout his career he played with many influential artists, such as Frank Sinatra, Nat King Cole and Tony Bennett.
Clapton openly acknowledged his debt to Weedon, saying he had "never met a player of any consequence" who had not learned from his books. He added: "Thank you for all those tips on guitar playing that I got from your book, when I was young."