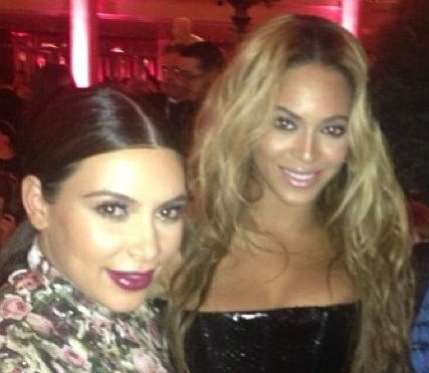 Superstar Beyoncé has reportedly reached out to new mother Kim Kardashian to impart words of wisdom about motherhood.
The Single Ladies hitmaker is said to have given the reality star, who welcomed her first child with rapper Kanye West on 15 June, "invaluable parenting advice".
According to reports, Queen B, who has a daughter with her rapper husband Jay-Z, has struck up a bond with the Keeping up with the Kardashians star.
"[She's giving her] invaluable parenting advice," an insider told RadarOnline. "And they'll see each other in December, if not before, when Beyoncé is back in LA for another show."
Although they have been in contact on the phone, the singer has been too busy to visit Kardashian at her mum Kris Jenner's home because of her Mrs Carter Show schedule.
"Kim hoped Beyoncé would have the chance to get out to Casa Jenner for a visit but she didn't have the time," the insider said.
In June, Beyoncé congratulated Kardashian and West on the arrival of their daughter with a heartfelt post to her personal website.
She wrote: "Congratulations Kim & Kanye. Enjoy this beautiful moment together."