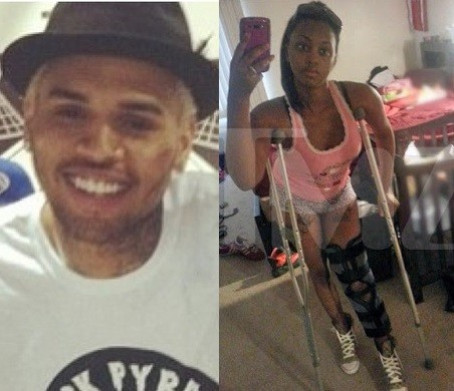 R'n'B superstar Chris Brown has denied allegations that he assaulted a 24-year old woman and left her needing medical attention.
Deanna Gines claims the 24-year-old singer shoved her to the ground during a night out at the Heat Ultra Lounge in Anaheim, California.
She told TMZ that she was taken to hospital following the alleged attack and was left with torn ligaments in her knee as a result.
But Brown, who is still on probation for his 2009 attack on former girlfriend Rihanna, has denied the accusations in series of tweets, which he later deleted.
"I don't usually comment [on press reports], but I didn't do anything", he told his 12.7 million followers.
"Positive energy... The devil is always working. If it wasn't for my faith and my fans, I would've quit music along [sic] time ago. I'm tired of it man....! stay positive."
His rep Nicole Perna has also rubbished the allegations, insisting that the star never touched Gines.
"I'm unaware of the incident, as is Chris's lawyer and his entire team. He was in a great mood after Powerhouse [the gig he played before going to the club]. None of this makes sense," she said.
According to Mike Joher, the owner of the Heat Ultra Lounge, Gines tried to jump on stage during Brown's performance at the venue and also tried to get at the Look at me Now hitmaker singer in his VIP area.
She is said to have been thrown out of the club for her behaviour - with police even being called to arrest her before friends eventually got her home.
Joher hinted that security staff may be responsible for Gines' injuries saying: "Heat staff and security did what they had to do ... [Chris] was a complete gentleman.
"Based on the information which we have gathered from our security company, mall security, and other party goers which were at HEAT on Saturday night; It is apparent that the alleged incident regarding Chris Brown is false."
Gines has filed a police report and an investigation has been opened.