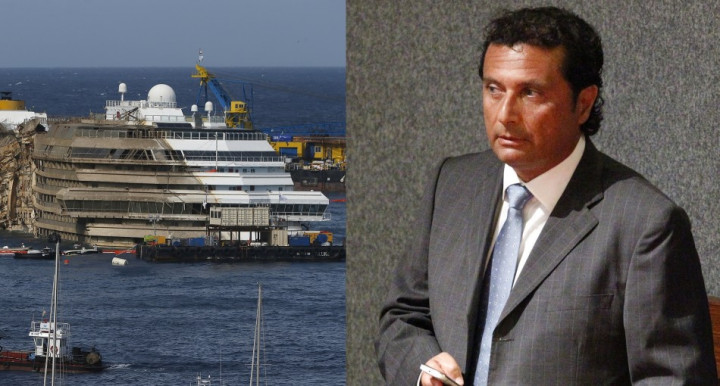 Almost two years after he was blamed for capsizing the cruise liner Costa Concordia and abandoning ship as it sank, Francesco Schettino has had his mariner's licence suspended.
The Ministry of Infrastructures and Transports said that Schettino, dubbed "Captain Coward" by the Italian media, will be not be able to take control of the the helm of a ship until further notice.
The announcement came after the shipwrecked vessel was set upright in an unprecedented "parbuckling" salvage operation off the Italian island of Giglio.
Schettino, who is facing trial on charges of multiple manslaughter, causing a shipwreck and abandoning ship, had previously said he had dreamt of sailing again.
The 53-year-old reportedly watched engineers working to salvage the ship on television at his home in Meta di Sorrento, near Naples.
Friends told Italian Ansa news agency that he was heartbroken and worn out.
According to prosecutors, Schettino steered the Costa Concordia too close to the coast in the hope of performing a sail-past salute to the inhabitants of Giglio off the Tuscan coast. He particularly wanted to impress a retired captain living there, said lawyers.
The liner crashed into a reef. Thirty-two people died in the incident. The bodies of two of the victims, Maria Grazia Trecarichi and Russel Rebello, have never been recovered.
Authorities said they would start looking for their bodies in the next few days as the ship is secured.
Schettino is expected to appear before court as his trial reopens on 23 September. He denies the charges, and his defence maintains that he actually saved lives by manoeuvring the ship closer to shore. No single person was to blame for the collision, they said.
Schettino could face up to 20 years in jail.