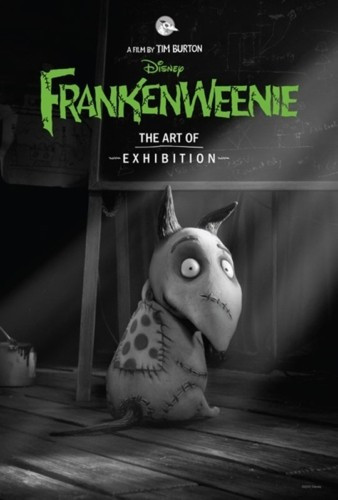 Tim Burton's much anticipated animated feature film Frankenweenie will not hit the theatres till before Halloween. However, Walt Disney Studios has decided to provide movie lovers an early glimpse of the stop-motion animated film with the help of a new touring exhibition.
Starting July, the Art of Frankenweenie exhibition will premiere in Barcelona, Spain, at CineEurope, June 18-21, and in the US at Comic-Con 2012 in San Diego, California, July 11-15. When the tour is complete it will have visited seven countries, including Spain, France, England, Japan, Mexico, Canada and the US.
The exhibition will feature exclusive original sketches drawn by Burton, as well as extensive props, sets and puppets.
The new movie is a tale of a boy and his dog, Sparky. After unexpectedly losing his beloved dog Victor harnesses the power of science to bring his best friend back to life with just a few minor adjustments. He tries to hide his home-sewn creation, but when Sparky gets out, Victor's fellow students, teachers and the entire town all learn that getting a new "leash on life" can be monstrous.
A stop-motion animated film, Frankenweenie was filmed in black and white and rendered in 3D. The talented voice cast includes: Catherine O'Hara, Martin Short, Martin Landau, Charlie Tahan, Atticus Shaffer, Robert Capron, Conchata Ferrell and Winona Ryder.
Presented by Disney, Frankenweenie is directed by Tim Burton, produced by Tim Burton and Allison Abbate, and executive produced by Don Hahn, from a screenplay by John August, based on an original idea by Tim Burton. Frankenweenie releases in US theatres on October 5, 2012.
The exhibition reportedly captures the magic of the filmmaking process and gives audiences an exclusive glimpse into the stop-motion animation process brought to life by visionary filmmaker Tim Burton. From original sketches drawn by Burton, to extensive props, sets and puppets, the exhibition showcases the artistic detail and vision that has gone into bringing this heart-warming tale to the big screen in 2012's most highly anticipated animated movie. The Art of Frankenweenie Exhibition delves into the world of a boy who, inspired by science and the love of his dog, brings his beloved pet back from the dead.