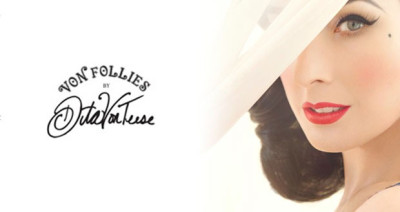 Dita Von Teese has launched her new ultra- feminine underwear range at Debenhams.
Following the vintage-inspired collection's phenomenal success in Australia, the burlesque star has brought Von Follies, by Dita Von Teese to UK shores.
To add some extra va-va-voom, the performer, who used to be married to singer Marilyn Manson, has modelled the collection herself.
"I wanted to create pieces that enhance the feminine silhouette and make each woman who wears my range feel sexy and glamorous," Dita told the Daily Mail. "Each piece is a homage to femininity and a reflection of my love of vintage glamour."
The fashion icon added: "It's important to me that this collection is accessible to all women - I have designed these beautiful pieces to flatter women of all shapes and sizes."
The retro collection, which mods to lingerie designs of the past, features bustiers, ornate balcony bras, fitted chemises, high-waisted briefs and garter belt.
Sizes range from an A-cup to E-cup, and briefs up to size 20. Prices range from £16 for a pair of briefs and £30 for bras.
Speaking about the collaboration Debenhams' director or lingerie buying and design Sharon Webb said: "We're very excited to welcome Dita's range to Debenhams."
IBTimes UK takes a peek...