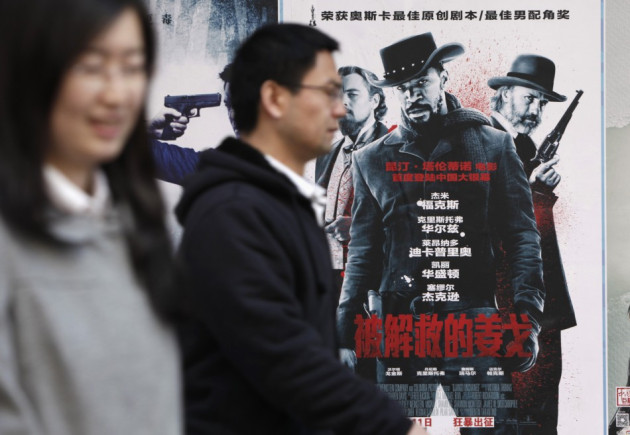 Quentin Tarantino's latest movie Django Unchained was abruptly pulled from Chinese theatres on its opening day, officially for some unspecified cross-country technical problem.
However it has been suggested Beijing's censors were misled by initially watching the violent slave-revenge saga on DVD, and were forced into a last-minute cut when they realised Jamie Foxx's genitalia was more prominent on the big screen.
"The penis was barely visible on the small screen, but it was more difficult to miss when the film was shown on the huge cinema screen," a source told The Times.
"When they were only watching the DVD version, they must have decided that it was too difficult to see to merit a redaction."
Django - Foxx - appears naked while being hung upside down and tortured after wreaking havoc at the mansion of Calvin Candie - Leonardo di Caprio.
The movie was reportedly turned off in Chinese cinemas only a few minutes after the lights had dimmed during the first day of screenings.
According to The Times, censors realised their misjudgement while reading journalists' surprised comments after a media screening two days before the premiere.
However some found hard to believe the watchdog made such an oversight .
"The censors have sharper eyes than we do," said Tian Zaixing, general manager of the Beichen Fortune Center movie theater in the southern city of Kunming. "Shouldn't they have already spotted it?"
Dango Unchained had been massively promoted across the country, and was eagerly awaited by the audience of the world's second-biggest movie market.
China's State Administration for Radio, Film and Television (SARFT) had already cut some scenes from the original script, in its usual clearing of violence, sex and politically edgy contents.
Filmgoers and theatre managers said they could not remember another time SARFT pulled a movie with the premiere in progress.
"It was so sudden. I was very shocked," said photographer Xue Yutao who was at a screening at a Beijing theatre. "How could this be possible? Something like this has never happened before."
Censors didn't say if the movie is to be re-screened at a later date.