First came RiRi Woo for MAC, then Rihanna for River Island and now Fenty Beauty is on its way. Rihanna's plans to dominate the fashion world have revved up a gear, with her inking a multi-million dollar deal with luxury conglomerate LVMH.
WWD reports the 28-year-old star has teamed up with the Kendo division of LVMH – which is also behind Marc Jacobs Beauty – to create a cosmetics collection that will launch next year. Industry experts estimate that the luxury goods' giant paid $10million (£7m) for the pleasure.
Confirming the news, chief executive officer of Kendo, David Suliteanu, said: "Fenty Beauty by Rihanna is a beauty rocket ship that will appeal to a huge and diverse global audience. We are aiming for the stars."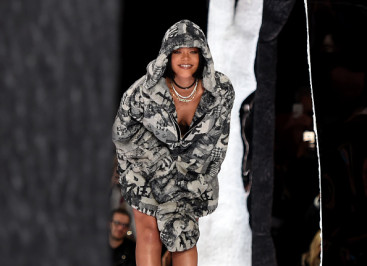 Back in June 2015, it was suggested the Diamonds hitmaker was keen to make the gradual move away from music to work on her burgeoning fashion empire. Grazia magazine reported that Chris Brown's ex had registered a new brand, $chool KIlls, which would host a line of accessories.
"Rihanna has already had a successful clothing line with River Island and is not limiting herself to just music and touring for the rest of her life," the insider said. "She will continue to release singles and albums, but she's had plans in place to expand in other areas like fashion for a good few years now."
The Grammy winner's passion for fashion is no secret. She has collaborated with MAC, fronted a number of campaigns for major fashion houses, such as Dior and Chanel and, earlier this year, unveiled her highly anticipated collection in a collab with sportswear giant Puma at NYFW.
The Fenty x Puma runway show took place on the second day of the fashion event and Rihanna's range, consisting of mesh fibres and lace-up detailing on printed joggers and loose shorts in bold monochrome statements, won over the fashion pack.
"I think design is a part of being creative," the 29-year-old Barbadian singer told The Associated Press backstage. "I enjoy creating and expressing the crazy things going on in my mind through something that people can see and that is tangible. That is the best part, being able to express yourself," she said.