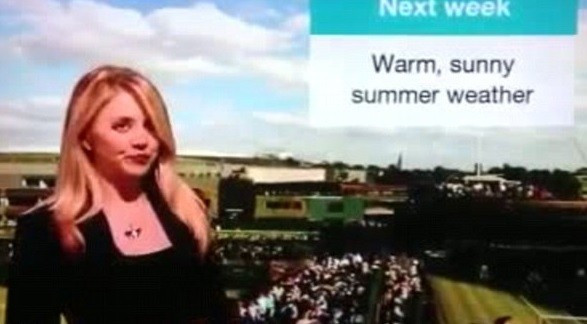 BBC weathergirl Wendy Hurrell has been accused of unprofessionalism after footage of her rolling her eyes during a live news broadcast went viral.
The 31-year-old presenter was caught expressing her frustration seconds after delivering a sunny forecast on the 10 o'clock news.
In a video posted online, her beaming smile can be seen quickly collapsing into a scowl. The cameras were still running.
The 18-second footage shows an oblivious Hurrell rolling her eyes and flicking her hair in an apparent display of contempt as the camera remained on her.
Social networks quickly erupted with speculation that anger towards news anchor Riz Lateef may have been responsible for the frosty look.
One viewer said: "OMG! Did anyone see the eye rolling from Wendy Hurrell at the end of the weather tonight. Tut tut! Me thinks you don't like Riz Lateef."
"@WendyHurrell providing much amusement on this sofa with a post-weather eye roll and 'what evs' face,'" wrote another.
"How unprofessional. She should smille even if the techs are breaking," a third critic insisted.
Hurrell denied on Twitter that there was bad blood between her and Lateef.
"The roll of the eyes was because I had to do the whole forecast without being able to see any graphics - it wasn't at Riz Lateef! #techfail," she told her 6,700 followers.
"And clearly I was kept cut in [on film] while I took out my frustration on the nearest inanimate object (green wall of the studio)"
She later made light of the gaffe with a reference to Will Ferrell's film Anchorman.
"It's actually really funny, even I have to admit. Our world is just like Anchorman," she tweeted.
In April an US weekend news anchor was suspended after being caught on camera swearing live on air - before starting his very first broadcast.
NBC's AJ Clemente was captured muttering a homophobic slur into his microphone as he joined co-host Van Tieu to present the North Dakota News.