London's Frieze Art Fair is driving a bull market in fine art with an estimated $2.2bn (£1.4bn) worth of work on show this year and specialist buyers and collectors from all over the world earmarking the hottest and most investible talent.
Frieze, which is spread mainly across two venues in Regent's Park, is really made up of two fairs: the contemporary and the Frieze Masters.
It attracts some of the world's biggest galleries, such as White Cube, Gagosian Gallery and Thomas Dane, while in concert with the fairs Christie's and Sotheby's are running day and evening auctions heating expectations ever higher.
Global art sales before the 2008 recession
Back in the heady days of pre-recession 2008, global art sales hit a high €48.07bn. Back then, wealthy investors and hedge fund managers looking to expand alternative investments to meet the glut of disposable income, touted all manner of art funds and art exchange indexes.
These days, the derivative-type art funds are generally thought to be very difficult to do in the art world; however, there are plenty of opportunities to invest. And 2013 saw the total value of the global art market hit €47.42bn, so 2014 is expected to eclipse the 2007 figure.
Philip Hoffman, chief executive of the Fine Art Fund Group, is an expert on buying investible art.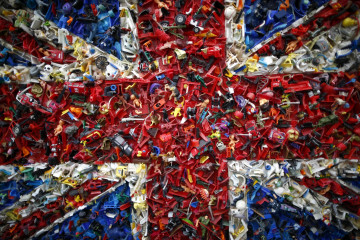 He told IBTimesUK: "We may or may not buy at the art fair. We tend to buy privately. We do advise private clients, if they see something really interesting and we will push on their behalf. They could be spending anything from £10k to £10m.
"The money is mainly in high end contemporary work. But there are many artists there that are not investible of course. We do look at young artists: some are definitely worth having. You could pay £20,000 to £30,000 for their work and expect to pay £300,000 for it next year."
Hoffman said there are a few of such works that would probably be going to top collectors or museums – places that will not sell them any time soon. This is because the art establishment will simply not allow your typical hedge fund manager to come along and say "I'll take four" and then sell them on soon after.
Gauging the profits made across the art market, at one extreme, a Van Gogh coming up for sale in four weeks at Sotheby's, was bought by the client ten years ago for about £10m. It is expected to sell for upwards of £50m. This is not a bad rate of return although it is over quite a long period, he said.
Similarly, a Carsten Höller bought ten years ago for £50,000 is now worth £10m.
Monet, Picasso and Cezanne are leading the way with art sales
Outside of contemporary work there are exciting sales going on within Impressionism, added Hoffman, including Monet and Picasso. The world record was a privately sold Cezanne at £250m.
"I expect if the Mona Lisa went on sale today, it would break the billion mark," Hoffman said.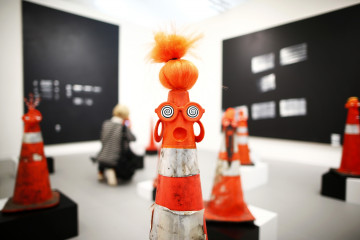 Frieze highlights include Rembrandt 17th-century portrait being offered at New York's Otto Naumann gallery for $48.5m. A Cy Twombly paint, crayon and graphite canvas from 1959 is at Van de Weghe Fine Art for $24m.
There is also an $800,000 cloth work by American sculptor Richard Tuttle, whose new piece featuring vast swathes of fabrics will be shown at Tate Modern's massive Turbine Hall. A 7,000-year-old figurine of an Aegean neolithic idol is at Rupert Wace gallery for £450,000.
Christie's, Sotherby's and Phillips between are set to auction some 972 works over the course of their day and evening sales, estimated to raise about £264m, which incidentally is more than twice last year's figure.
Christie's first auction is of 44 works from the Essl Collection of contemporary art in Austria, which includes coveted German postwar artists such as Gerhard Richter, whose 1985 red, yellow and green abstract is valued at between £7m and £10m. The sale is expected to fetch as much as £56.8m.
The Big Apple is the biggest player in the world's art market
New York still dominates the top end of the world's art market with 80% of sales over $10m, partly down to favourable tax terms for artists' resale rights. China is tipped to be a hot market as its growing millionaire base grows, despite a 30% drop in China art sales in 2012.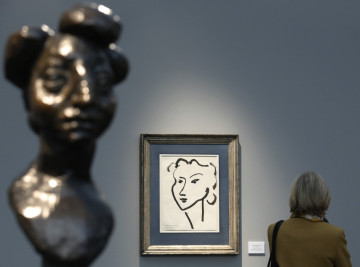 "We are seeing lots of money coming from China India, from the Middle East and Russia – buyers from these places are putting in serious money; we are seeing individual families spending tens of millions in a year," added Hoffman.
Frieze takes place at Regents Park from 15 to 18 October and comprises 162 galleries at the main fair. It started in 2003 and expanded to New York in 2012, and was the seventh-most attended art fair in the world from the fall of 2013 through June 30, with 70,000 visitors at the London event.
Solo and special presentations that promise to be focal points in the fair include: Carsten Höller (Gagosian Gallery, London); Eric Bainbridge (Workplace Gallery, Gateshead); Rosa Barba (Meyer Riegger, Berlin & Gió Marconi, Milan); Will Benedict (Overduin & Co, Los Angeles); Martin Creed (Galerie Rüdiger Schöttle, Berlin); Koo Jeong A (Pilar Corrias Gallery, London); Lee Kit (Vitamin Creative Space, Guangzhou); Goshka Macuga (Kate MacGarry, London); Barbara T Smith (The Box, LA); a pairing of work by Mark Grotjahn with Tabwa masks (Anton Kern Gallery, New York); and a booth curated by Mark Wallinger (Hauser & Wirth, London).
Other stands of interest include Salon 94's (New York) collaboration with the Smile Face Museum from Maryland; a presentation of British sculpture by Thomas Dane (London); and Stevenson's (Cape Town) focus on Barthélémy Toguo.