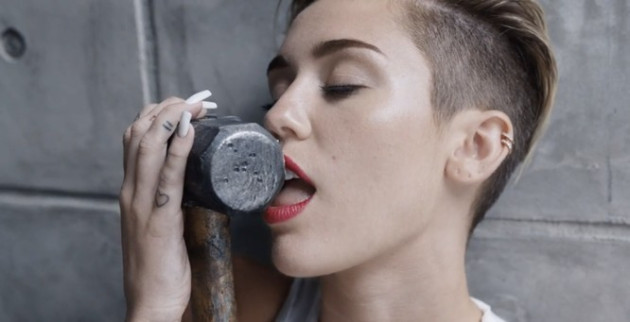 She has already made headlines with her raunchy antics and now it appears porn moguls are taking an interest in Miley Cyrus.

According to TMZ, the child star-turned-twerking queen has been offered a staggering $1m (£600,000) to direct an X-rated film.
The indecent proposal comes from adult entertainment retailer GameLink, who think the 20-year-old is more valuable sitting in the director's chair than at the centre of a hardcore sex scene.
GameLink is reportedly so keen to sign up the Wrecking Ball hitmaker for the directing gig that they sent her a letter outlining their proposal.
In an effort to sweeten the deal, the company say they are willing to give Cyrus "full creative control" at work.
Alluding to Cyrus' feud with Irish crooner Sinead O'Connor, who told the singer to stop "pimping herself and focus on her music" the firm's vice president Jeff Dillon writes: "This gives you a chance to show the world you are not a little girl anymore, and you won't bow to pressures of the likes of Sinead O'Connor, who is jealous of your success."
While many fans have accused Cyrus of setting a bad example for her young fans, Dillon says she should be proud of her provocative behaviour, which has included swinging naked from a wrecking ball in her latest video and gyrating on Robin Thicke at the MTV VMA's.
He adds: "[You've] become an empowered young woman that is unapologetic about your lifestyle, especially when it comes to expressing your sexuality ... you are the ideal choice to show the world your vision as an artist in the world of adult entertainment."