We put Google's fourth Nexus-brand smartphone, the LG-made Nexus 4 side-by-side with Samsung's first Windows Phone 8-powered smartphone, the Ativ S, to help you decide which to buy.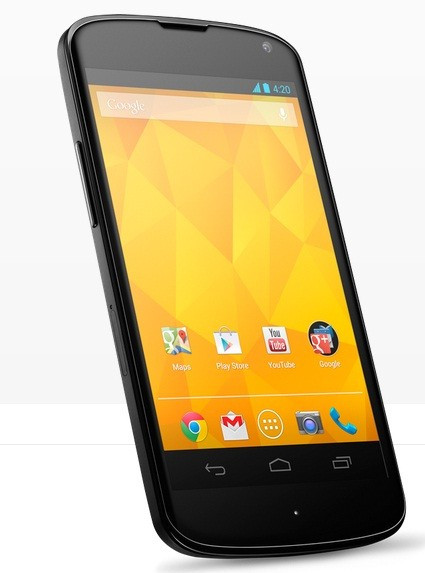 Before Google unveiled its Nexus 4, Samsung had gotten the jump on them and a lot of other manufacturers by announcing the Ativ S as the world's first Windows Phone 8 device, at this year's IFA trade show.
The Ativ S with its "stunning hairline design" and "high performance" is expected to hit the shelves in the UK around the same time as the Nexus 4 is scheduled to be released. So with consumers faced with a choice, we've decided to put them side by side and see which comes out on top.
Nexus 4 vs Ativ S: Display
Samsung's Ativ S features a 4.8in HD Super AMOLED display with a resolution measuring 720 x 1280 pixels givign it a pixel density of 306 pixels per inch (ppi).
Interestingly, the Ativ S and company's flagship smartphone, Galaxy S3, shares similar display features including screen size, screen resolution and pixel density. Samsung promises the Ativ S with its HD Super AMOLED will provide a "brilliant" viewing experience.
The Nexus 4, in contrast, features a 4.7in WXGA True HD IPS Plus display. The screen resolution and the pixel density of Nexus 4 is slightly more than that of the Ativ S, at 768 x 1280 pixels and 320ppi.
Talking about the screen technology of Nexus 4, its display features a technology called 'Zerogap Touch Technology' - which was first introduced by LG through Optimus G.
The key difference between this technology and regular screen technology, is that Zerogap Touch has an ITO sensor film which is printed on the glass, removing the air gap trapped between two elements.
This results in delivering great touch sensitivity while also reducing the thickness of the display.
The display of both Nexus 4 and Ativ S are protected by Corning Gorilla Glass 2.
Nexus 4 vs Ativ S: Dimensions
The Ativ S measures 137 x 71 x 8.7mm whereas the Nexus 4 measures 134 x 69 x 9.1mm. The Nexus 4 weighs just four grams more than the Ativ S at 139g.
Considering the dimensions, the footprint and thickness of both Samsung and LG phone are very similare, which is unsurprising considering the similar sized screens.
Nexus 4 vs Ativ S: Operating System
The Ativ S will run on Microsoft's latest smartphone operating system (OS)- Windows Phone 8 which made its debut on 29 October. The OS brings an array of new features.
The Nexus 4 will run on latest version of Google's operating system, Android 4.2 (Jelly Bean). Google introduced the new software update alongside the announcement of its Nexus devices.
This latest version of Jelly Bean carries some new features including Gesture Typing which enables users to glide fingers over the letters they want to type on the keyboard which in turn makes typing fast.
The Android 4.2 update also adds support for wireless display, allowing users to share movies, YouTube videos and images on their TVs. Other key features include Daydream, enhanced Google Now and Google Search and Android Beam.
Nexus 4 vs Ativ S: Processor
Interestingly both handsets use Qualcomm's chipsets.
The Ativ S runs on Qualcomm's Snapdragon S4 (MSM8960) chip featuring a dual-core Krait mobile application processor that is paired with Adreno 225 graphics unit. The processor runs at a clock speed of 1.5GHz. This is the same processor which is used in US variants of Galaxy S3 and HTC One X.
The Nexus 4 uses Qualcomm's newly announced Snapdragon S4 Pro chip featuring a quad-core Krait processor, paired with Adreno 320 graphics unit. The quad-core processor is clocked at 1.5GHz.
Google's Nexus phone has double the amount of RAM than Samsung's Windows-powered phone at 2GB.
Nexus 4 Vs Ativ S: Cameras
The Ativ S features an eight megapixel rear-facing camera with features including auto-focus, LED flash, geo-tagging and image stabilisation. The camera can record video in 1080p at 30 frames per second. The handset also has a 1.9 megapixel front-camera which Samsung termed as a "VT camera."
The Nexus 4, like the Ativ S, features an eight megapixel primary camera with features including auto-focus, LED flash, touch-focus, geo-tagging, face detection and a new camera feature called Photo Sphere.
This feature allows users to capture photos (larger in size) in every direction. In addition users can share their photos on Google+ and can add Photo Sphere to Google Maps. The rear-camera is also capable of recording 1080p video at 30fps.
The Nexus 4's front-facing camera has a slightly lower resolution than the Samsung's upcoming handset, at 1.3megapixels.
Nexus 4 vs Ativ S: Connectivity
The Ativ S offers dual-band Wi-Fi , Wi-Fi Direct, Wi-Fi hotspot and Bluetooth v3.0 with A2DP. The smartphone supports data speeds HSDPA up to 42Mbps and HSUPA up to 5.76Mbps.
The Nexus 4 also offers dual-band Wi-Fi, DLNA, Wi-Fi hotspot, Bluetooth v4.0 with A2DP. It supports HSDPA and HSUPA data speed like the Ativ S.
The web search giant has confirmed that the T-Mobile users will get HSPA + 42 on the Nexus 4.
Both Samsung and Google's smartphones are Near Field Communication (NFC) enabled.
What is disappointing is even though the UK now has a 4G network, these handsets do not support it.
Nexus 4 vs Ativ S: Storage
The Ativ S will be available in two storage variants: 16GB and 32GB. The Nexus 4 will also come in two storage options at 8GB and 16GB.
Samsung's new handset supports microSD card for additional storage space whereas the Nexus 4 does not. However Matias Duarte, director of Android operating system user experience at Google, explains the reason why the company opted out of microSD card support.
"We take a different approach. Your Nexus has a fixed amount of space and your apps just seamlessly use it for you without you ever having to worry about files or volumes or any of that techy nonsense left over from the paleolithic era of computing. With a Nexus you know exactly how much storage you get upfront and you can decide what's the right size for you. That's simple and good for users," explains Duarte.
Nexus 4 vs Ativ S: Battery
The Ativ S has a bigger battery at 2300mAh with no official word on the endurance of the battery. The Nexus 4 has a 2100mAh battery which promises to deliver talk time of 15.3 hours and standby for about 390 hours.
Nexus 4 vs Ativ S: Price
As far as the pricing is concerned, the 16GB version of Ativ S is approximately £160 more expensive than the 16GB Nexus 4 model which is priced at £279. The 8GB version of Nexus 4 is priced at £239.
UK retailers are selling Ativ S with a starting price around £440. It should be noted that retailers have different price deals available for the smartphone.