Discerning YouTuber (Domislive aka Dom) has revealed fresh details about upcoming Apartments DLC and mini games, while also shedding some light on the next story mode DLC for GTA 5 Online.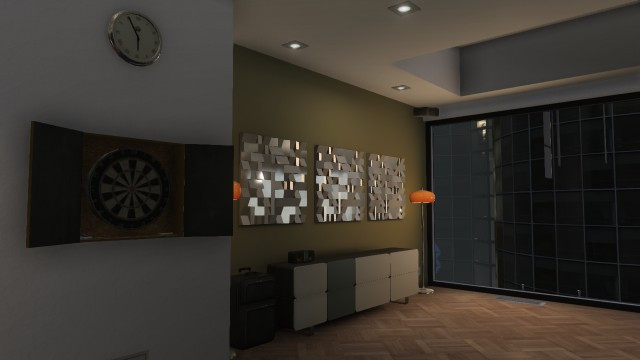 The leaked screenshots (above) provided by NillxModz from se7ensins.com reveal a set of Dart boards with an added suitcase at the side next to the cabinet.
According to the tipster, the only available Darts area for GTA 5 is in Blaine County and this could actually spur great interest among socially-active gamers who love to hold Dart competitions in their in-game apartment premises.
Furthermore, the leaked source code pertaining to Apartments and mini games DLC suggests that it functions the same way as standard Darts interface works.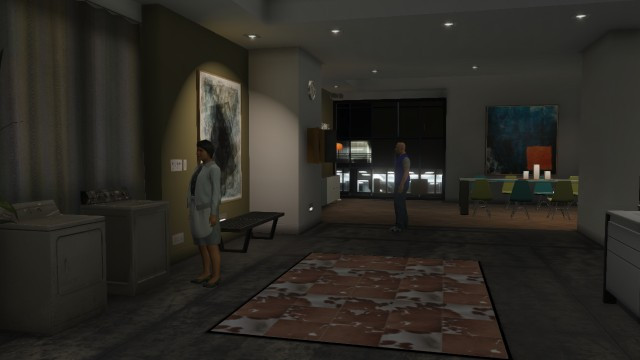 The next leaked image (above) hints at modular furnishing inside the apartment including a washing machine and a Maid-AI who takes care of the laundry work for you, besides another online character playing darts.
One glance at these leaked pictures indicates that Rockstar might be testing out the various new gameplay elements being introduced into the next-gen version of the game, ahead of its release on 18 November.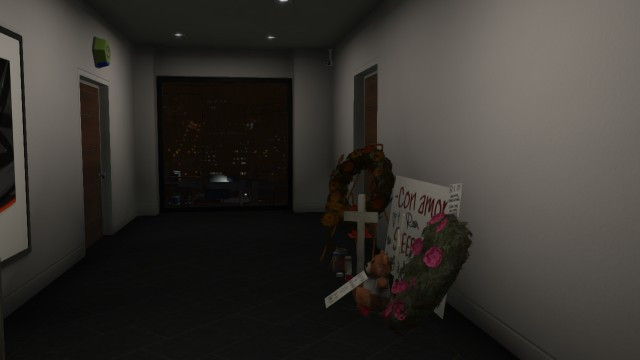 The third leaked screenshot (above) presents Rockstar's iconic twist to the Apartment interiors with a functional alarm above the front door of a typical multiplayer apartment setup, besides a memorial placed right outside the Apartment door on the right.
Quite interestingly, the third image clearly indicates a 'dead man next door' theme, which matches well with the theme of crime-infested world in GTA Online.
In addition, the leaked screenshot also suggests support for expanded apartment access wherein GTA Online players will now be able to enter and exit their Apartment via the lift manually, rather than the AI moving your character for you or the ability to open, close and lock your Apartment door.
On the downside, you can no longer interact with fellow players in your Apartment's hallway unless you invite them.
Given the new gameplay elements being introduced into the GTA 5 Next-gen game, Rockstar is definitely looking at making the game more realistic and life-like.
In related news, Dom points to a French website, Gameblog (Google translated), which has fuelled further speculation about the upcoming story mode DLC for GTA 5.
The report explains that gamers could expect something along the lines of 'The Lost and Damned' and 'The Ballad of Gay Tony' in the future story mode DLCs for GTA 5.
As far as the release date is concerned, Dom hints that the story mode DLC could be released anytime between February and March 2015.