Guitar Hero Live vs Rock Band 4: Which will win the battle of music rhythm games in 2015?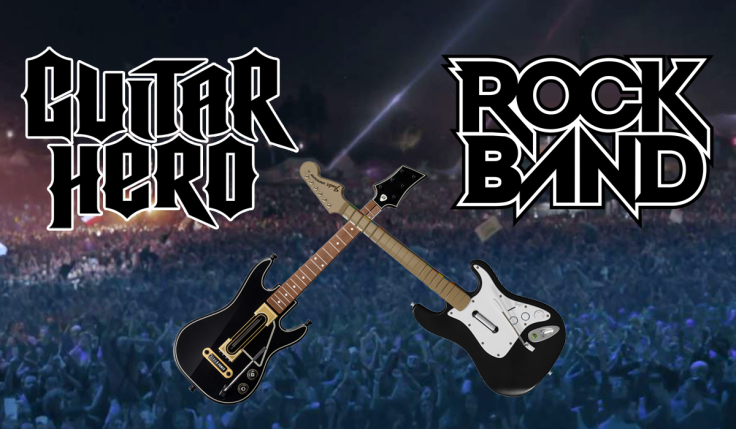 With Activision announcing Guitar Hero Live today (14 April) and Harmonix revealing Rock Band 4 in March 2015, the music rhythm game revival is in full swing, and this autumn the two franchises that defined expensive peripherals in the mid-to-late 00s will do battle once again.
Which of the two will win the impending sales battle though? Let's take a look at what developers Harmonix and FreeStyleGames have in store.
How will they play?
Rock Band remains Rock Band, while Guitar Hero has reverted back to something closer to its original form. Both ended up being full-band experiences with a multitude of instrument peripherals, but now only Rock Band will scratch that itch, with Guitar Hero instead returning to its solo, guitar-led roots.
For now at least, it wouldn't shock anyone if Activision were thinking about supporting other instruments further down the line.
In terms of raw gameplay, it's Guitar Hero which is shaking things up most, and in a few ways. The most important is that the coloured line of frets is now gone, replaced with two stacked rows of three buttons – one row white, and one row black.
This translates on screen to a familiar cascade of notes which has been reduced to three rows rather than five. Doing this puts the focus of higher difficulty levels on pressing multiple buttons at the same time and not having to move your hand up and down the guitar's neck.
It is a simplification of the formula, but one which also has potential for much more difficult guitar mastery. GH: Live also comes with Guitar Hero TV – a 24-hour playable network which runs music videos players can play along to and battle for high scores, matchmaking and on-demand songs.
While playing, the player will also be put into the body of a guitarist at a gig, with actors hired to play crowd members and band mates giving you feedback on your performance. There will be boos.
Rock Band 4 meanwhile will be quintessentially Rock Band. The relative lack of innovation is down to its backwards-compatibility, with Harmonix working on bringing its huge library of downloadable tracks to the new game. All existing peripherals will also be supported.
What instruments will each require?
Guitar Hero Live will only support a new instrument peripheral thanks to its gameplay innovations, while - as mentioned – Rock Band 4 will support all previously released peripherals as well as new ones being made by Mad Catz.
Who will have the most music?
Attracting big names to either game won't be a problem, but the size of each game's library might be. Harmonix revealed in their developer video for Rock Band 4 that they're working on bringing over 2,000 songs to the new game. Will Guitar Hero be able to match? The power of Activision should make sure it does, and they'll need to keep GH: TV afloat, but will it have the library to match straight off the bat?
*Pink Floyd - Money riff*
Harmonix have parted ways with EA, so will be self-publishing Rock Band 4. Their partnership with peripheral-manufacturers Mad Catz will help a little but they will never be able to compete money-wise with Guitar Hero publishers Activision.
Activision have the means to really hinder Rock Band if they were feeling particularly worried about the competition. They could put together the glitzier, bigger-budget marketing campaign (just look at the two company's announcement videos) and could use that money when it comes to signing new bands and wooing record labels.
Hopefully though, we have a nice clean fight on our hands.
So who will win?
Arguments are easy to make for each side. Rock Band 4's support for existing players is noble and fan-pleasing, but will that hinder how much it has to offer in the way of new reasons to play the game on PS4 and Xbox One?
Guitar Hero will require players to purchase a new pricey peripheral, but their stripped down game – not to mention the Guitar Hero TV feature – could appeal to new players and improve on the formula established by the last round of such games. Did that formula need changing though?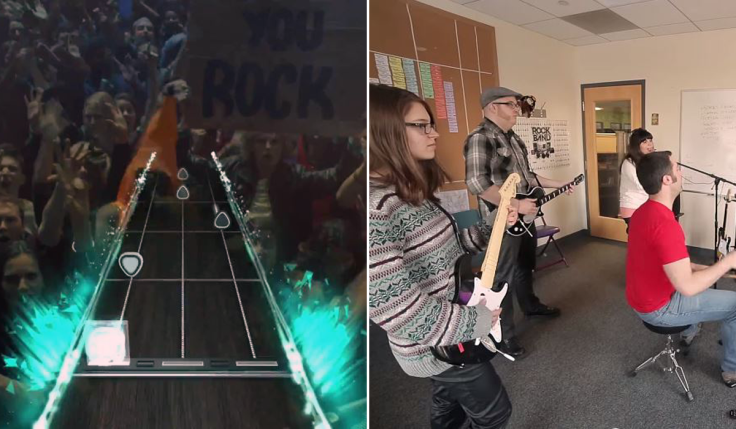 Who will win is a question for when more is known about the full packages that will be offered, but I can talk about who is winning – and so far it's Rock Band.
These games are being released as platforms with a focus on players purchasing new songs for years to come rather than releasing a new game annually. That itself makes the battle between them closer to PlayStation vs Xbox than Battlefield vs Call of Duty.
As has been proven by the PS4's success and Xbox One's initial struggles to compete, the key to home console success is to first please the core fanbase, then expand from there. Microsoft fluffed their messaging, promising "innovation" when it wasn't wanted or needed, and Sony just had to sit back and say "this console works how you'd expect a console to work."
What Guitar Hero is offering isn't as drastic as what Microsoft were offering, but by scrapping backwards-compatibility they're immediately putting themselves back to square one – whereas Rock Band already has a huge player base that only has to buy a new disc if they have the peripherals already.
© Copyright IBTimes 2023. All rights reserved.