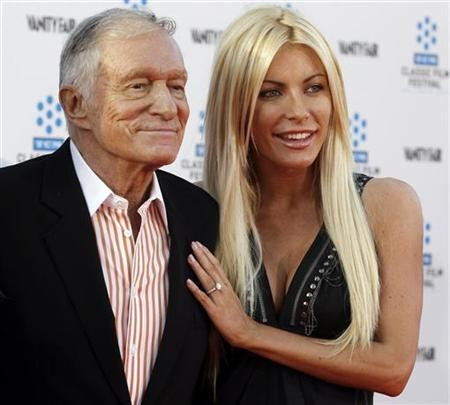 Crystal Harris, 25, dished the dirt on her sex life (or lack thereof) to radio presenter Howard Stern on Tuesday (26 July.)
The runaway bride said that she had never seen the 85-year-old magazine mogul naked: "Hef doesn't really take off his clothes. I have never seen him naked,"
Appearing on Stern's SiriusXM radio show she continued to say that their sex life left a lot to be desired.
Harris, who left Hefner and his Playboy Mansion five days before their planned June 18 wedding, claimed the pair only had sex once during their two-year relationship, and that it lasted "like about two seconds."
Harris was Playboy magazine's Miss December 2009 and appeared on the July cover of Playboy with a "runaway bride" sticker covering her bottom half.
Confusion struck as to why the Playboy bunny had suddenly decided to opt out of their wedding last minute, it now seems clear that the lack of sex and attraction was the sole reason.
"I was over it. I just like, walked away. I am not turned on by Hef. Sorry," she added.
Hefner, founder of the Playboy adult entertainment empire, has been married twice before.
After initially describing himself as heartbroken at being dumped by Harris, Hefner has since announced that he has a new girlfriend, Shera Bechard, a 27 year-old French Canadian model who was Playboy's Miss November 2010.