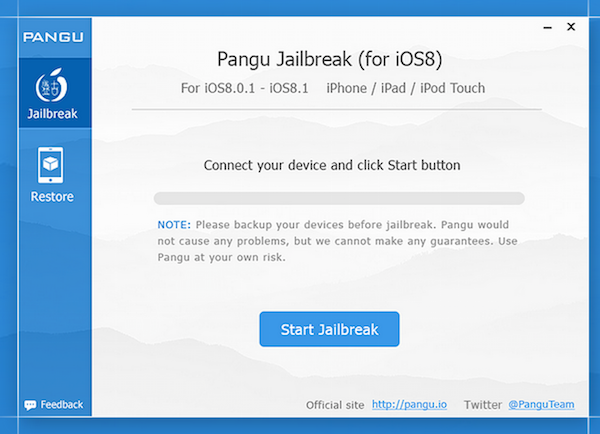 The Pangu team has just rolled out a bug-fix update for Pangu8 jailbreak to address boot loop issues while restoring iOS 8 devices from backup.
The Pangu jailbreak v1.2.1 also includes Cydia 1.1.16 update, which was released by Jay Freeman (aka Saurik - the founder of Cydia) just a little while earlier.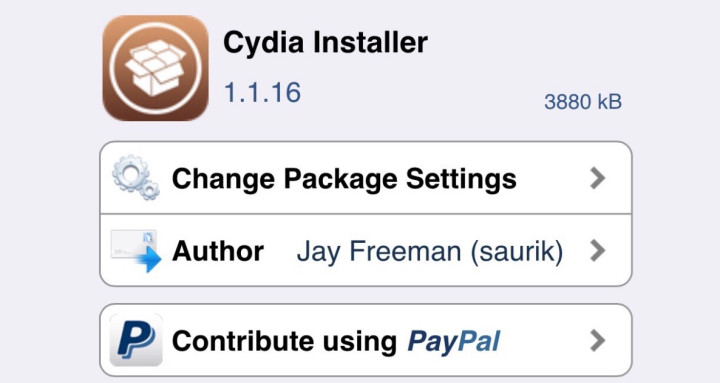 The Cydia 1.1.16 brings a host of bug-fixes over its previous releases such as iTunes backup restores, iOS 8 multitasking timeouts, App Store redirects and more.
Check out the full changelog below, courtesy of iDownloadBlog:
iOS 8 "Restore from Backup" Fixed

This update fixes an important bug in Cydia 1.1.14 and 1.1.15 on iOS 8: if you used "restore from backup" in iTunes after your first use of Cydia, you needed to reinstall this package to make sure your device could safely reboot with a passcode enabled.

It should now be OK to use the iTunes "restore from backup" feature without needing to then reinstall Cydia Installer afterward to avoid reboot problems.

Increase iOS 8 Multitask Timeout

Cydia automatically refreshes the package catalog if it was suspended too long. This timeout is now set to 15 minutes. It had previously been only 15 seconds, because that's what I was using to test this feature, and I forgot to change it back. (Doh.)

Improved App Store Redirect Block

The initial version of this feature turned out to only be partially effective: we have done wider testing and have improved our iTunes URL detection.

Login Dialog on iPad Works Now

Apparently, logging in to an account on an iPad would not reload the login dialog, making it seem like you needed to log in again?! This is now fixed.
v1.2.1 is out with Cydia 1.1.16 bundled which solves the issue u may stuck at booting after backup/restore.

— PanguTeam (@PanguTeam) November 6, 2014
With Saurik pushing the most important update for Cydia following the release of iOS 8.x Pangu jailbreak, the Pangu team has also stepped up to support its loyal fans from the jailbreak community by releasing the all important Pangu 1.2.1 jailbreak update with fixes for boot loop issues in iOS 8. The Pangu 1.2.1 update retains Cydia and English support from the previous release, while the installation support is currently limited to Windows systems only.
Also we are already working on Mac version. It may come out in couple of days. Pls wait a bit more time. — PanguTeam (@PanguTeam) November 6, 2014
The Pangu team sounds positive about rolling out the Mac version of Pangu8 jailbreak in the next couple of days, reports iPhone Hacks.
Meanwhile, those who cannot wait for the release of Mac version of Pangu can go ahead and install the new jailbreak via Windows Virtual Machine (see the guide below).
Compatible devices
iPhone 6, iPhone 6 Plus, iPhone 5s, iPhone 5c, iPhone 5, iPhone 4S
iPad Air 2, iPad Air, iPad 4, iPad 3, iPad 2
iPad mini 3, iPad mini 2, iPad mini
iPod touch 5g
Downloads Required
Steps to Jailbreak iOS 8.x Using Pangu v1.2.1 with Cydia Installer (For Windows)
Step 1: Download latest version of Pangu (v1.2.1) from the above link and save it to the desktop.
Step 2: Ensure the latest version of iTunes (v12.0.1) is installed on your iDevice and it is recognised in iTunes.
Step 3: Right-click on Pangu app and choose Run as Administrator, and then click Yes to confirm.
Step 4: Allow Pangu to identify your device and then uncheck the box to prevent bloatware from being installed. Finally, click the blue jailbreak button.
Step 5: Wait for Pangu to complete the jailbreak process or until the blue status bar gets filled up to 100%.
Step 6: Launch Pangu from the device's Home screen, and now you can install Cydia via Cydia Installer link.
Step 7: Launch Cydia and let it run the setup or configure itself. Finally, install the necessary updates when prompted.
That's it. You have now installed the latest Pangu update for iOS 8.x jailbreak along with Cydia functionality in a very simple way.
It is now possible to install latest Cydia Substrate updates as well as jailbreak tweaks and apps based on your requirements.
For further assistance, check out the video tutorial below:
Steps to Jailbreak iOS 8.x with Pangu on Mac OS X Using Virtual Machine (For Mac)
Step 1: Download and install the 14-day trial version of Parallels Desktop 10, which will come in handy to jailbreak your iOS 8.x device using Pangu.
Step 2: Download Windows 8.1 Enterprise evaluation version (use link above), which comes with 90-day free trial for Windows 8.1.
Step 3: Install Windows 8.1 with Parallels Desktop 10 as follows:
Open Parallels app and then navigate to File > New.
Now click install Windows from DVD or Image file.
Browse and select the Windows .ISO file you downloaded in step 2 and the install process will begin.
Step 4: Once you have started running Windows 8.1 virtual machine on your Mac, install Parallels Tools by choosing the option Action > Install Parallels Tools.
Step 5: Perform the rest of the steps as you would normally do to jailbreak your iDevice running iOS 8.x on Windows. Here are the steps:
Do a fresh restore of iOS 8.1 on your device using iTunes: Go to Settings > passcode and disable the Passcode Lock.
Now install iTunes on Windows Virtual machine and check if your iOS device is recognised in iTunes when it is connected to computer via USB cable.
Ensure that you download the latest Pangu tool from the download link provided above and save it to your computer's desktop.
Right-click on the Pangu tool (.exe file) and choose Run as Administrator. Then click Yes to confirm.
Uncheck or remove the tick from selection box on the Pangu tool to prevent any bloatware from installing on your iOS device.
Wait until the Pangu tool detects the connected iOS device and then hit the Blue jailbreak button.
Allow the jailbreak process to complete and then launch the Pangu app on your iPhone.
Finally, you can install Cydia (click to see tutorial) followed by Cydia tweaks and apps on your jailbroken iOS device.