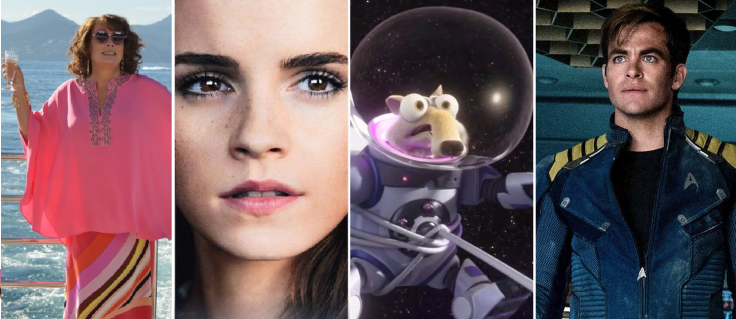 Television may be heralding the end of some great shows (read Game Of Thrones), but luckily cinema is here to help fill up those weekends with some great new movies lined up for release in July.
With a variety of genres to choose from, IBTimes UK lists the top in animation, drama, action and comedy to satisfy your entertainment itch.
The BFG
Release date: 1 July (US), 22 July (UK)
Based on the popular children's book by Roald Dahl, BFG (Big Friendly Giant) tells the story of an orphan girl Sophie (Ruby Barnhill) and the friendly giant (Mark Rylance) who is considered an outcast because he refuses to eat children. The two form a loving friendship and set out on an adventure to capture the evil man-eating giants who are terrorising the human world.
The Legend Of Tarzan
Release date: 1 July (US), 6 July (UK)
After Jungle Book, we're not sure if audiences are quite ready to get back to the wild but that's what they are going to get with The Legend Of Tarzan. In the reboot, Tarzan (Alexander Skarsgård) returns to the jungles after years in civilised society only to find himself a pawn in a deadly scheme of corruption and greed.
Star Trek Beyond
Release date: 22 July
The third movie in the franchise Captain Kirk (Chris Pine), Spock (Zachary Quinto) and the rest of the crew of USS Enterprise are faced with a new enemy – an unstoppable army of aliens who destroy their ship and force them to defend themselves on an unknown planet.
Ice Age: Collision Course
Release date: 22 July (US), 15 July (UK)
The sabre-toothed squirrel Scrat's hunt for acorns triggers a global threat that forces Manny (Ray Romano), Sid (John Leguizamo), Diego (Denis Leary) and the rest of the troop to travel in search of safety.
Absolutely Fabulous
Release date: 1 July (UK), 22 July (US)
Patsy Stone (Joanna Lumley) and Edina Monsoon (Jennifer Saunders) find themselves in the eye of a media storm when one of them accidentally kills Kate Moss. Look out for all the cameos in this film. BBC and Fox confirmed a total of 60 star appearances in the film including Emma Bunton, Kate Moss, John Hamm and Kim Kardashian.
Jason Bourne
Release date: 27 July (UK), 29 July (US)
Alicia Vikander and Matt Damon come together for the fifth Bourne film. It's been years since Jason went off the grid and now he has resurfaced in order to find out more about his family. However, there is a new computer program that can track him down and once again he has to be on the run.
The Secret Life Of Pets
Release date: 8 July (US), 18 June (UK-limited), 24 June (UK)
The pampered terrier Max (Louis CK) and the rescued mongrel Duke (Eric Stonestreet) make an odd team as they fight off some vicious street cats, escape an animal shelter and delve into the underbelly of the pet world.
Mike And Dave Need Wedding Dates
Release date: 8 July (US)
Zac Efron and Adam Devine play two brothers, Dave and Mike, who are looking for well-mannered, respectable girls to take as dates to their sister's wedding. Instead they end up with wild girls Tatiana (Aubrey Plaza) and Alice (Anna Kendrick) who simply want a free trip to Hawaii where the wedding is happening. The film is slotted for release in the UK in August.
Now You See Me 2
Release date: 4 July (UK)
The film has not got the reception its predecessor earned by critics but will still be an interesting watch considering the mix of actors in it. The Four Horsemen (Jesse Eisenberg, Woody Harrelson, Dave Franco and Lizzy Caplan) are forced to pull off a heist for a tech genius (Daniel Radcliffe).
Ghostbusters
Release date: 11 July (UK), 15 July (US)
With an all-girl team of spirit catchers, the remake has received mixed reviews. However, considering the cast includes funny women Melissa McCarthy, Kristen Wiig, Leslie Jones and Kate McKinnon, along with Chris Hemsworth, this might be worth the watch.
The Infiltrator
Release date: 13 July (US)
Bryan Cranston gets back to the world of drugs and guns in The Infiltrator. This time he plays a US customs officer who uncovers a money laundering scheme linked to Colombian drug lord Pablo Escobar. The film will release in the UK in September.
Colonia
Release date: 1 July
The historical romantic thriller released in 2015 but will hit UK theatres this July. Set in 1973, the film tells the story of a young woman (Emma Watson) who joins a religious cult in order to find her boyfriend (Daniel Brühl) who was taken captive. The two then try to escape the closed-off organisation.
Bad Moms
Release date: 29 July (US)
Bad Moms is a comedy film about a group of women who decide to take a break from trying to be the perfect mothers to their children and let their hair down. The film stars Mila Kunis, Kristen Bell, Kathryn Hahn, Christina Applegate and Jada Pinkett Smith. The film releases in the UK in September.