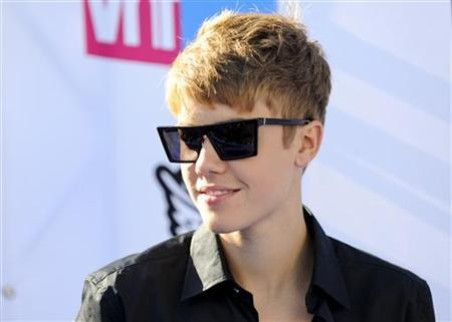 Just months after a Californian woman falsely claimed that he secretly fathered her baby, Justin Bieber is facing another bizarre lawsuit.
An unidentified man has alleged that the Baby hit maker stole his credit card and used it to buy himself drugs and a penis enlargement.
According to TMZ.com, the plaintiff from Michigan has also brought forward a host of other farfetched allegations, including claims that he is the biological father of both Bieber and his girlfriend Selena Gomez.
In papers filed in Michigan, the accuser states that the multimillionaire borrowed money from him to pay for an abortion after impregnating Gomez.
"Bieber has cost me $426.78 and never paid me back. This money was used as abortion money because Justin Bieber got my daughter Selena pregnant in my bedroom, on my Canadian bear rug."
He goes on to say that the 18-year-old singer "gave Selena a STD and... Bieber also got a penis enlargement with my stolen American Express card."
The court documents also insists that Beiber is a womaniser who has cheated on Gomez with a string of female stars including with Ke$ha, Rihanna and Penelope Cruz.
Not satisfied targeting just Bieber, the claimant also hit out at his mentor R'n'B superstar Usher Raymond saying "Usher Raymond came to my house on the forth (sic) of july 2012 and sodomised me with a firework and lit it inside my anal area while blaring kate perry (sic) firework song in my ear drum."
The absurd suit ends with the statement: "I'm an emotional mess ... America must boycott biebers music!"
He is reportedly seeking $10million in damages.