Kanye West thinks of himself as a god and it appears one other man believes in his self-worth. A fan has started a petition to change a train station in the UK to the US rapper's name despite having never listening to any of West's music.
The fan, named Mark Kilner, launched the petition on Change.org to change Canterbury West station in Kent to Kanye West and, so far, nearly 1,500 supporters have signed the campaign. In the petition, Kilner describes West as the "greatest human being of our time" before comparing him to several Biblical figures such as Moses and Jesus.
Kilner writes: "Moses brought Ten Commandments down from Mount Sinai; Kanye (wealth be upon him) has already brought us six studio albums – with a seventh due out soon. (I admit I haven't actually listened to any of his music, but that's only because I consider my humble ears to be unworthy of such auditory genius)."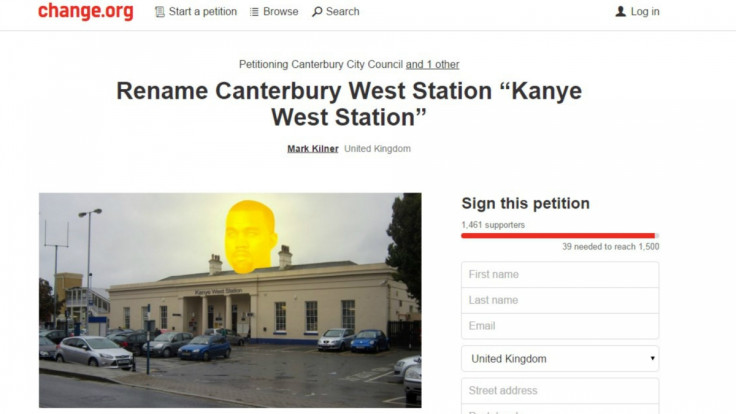 Explaining his reasoning for starting the petition, Kilner said: "Sadly, Kanye (wealth be upon him) has been not always been afforded the respect he deserves... But we can show our appreciation in other ways, and what better start than renaming Canterbury West Station to Kanye West Station?"
Kilner later expresses his hopes of changing the names of Canterbury Cathedral and the local hospital in honour of West, 38. Kilner states: "I see this as the first step towards a brighter future when the whole of Canterbury is renamed after Kanye."
West's 'god' complex reached its peak in August 2015 when the All Day rapper announced his plans to run for president of the United States at the MTV Video Music Awards. Addressing his plans for a political career, West later told In Camera: " I think that the way I collaborate with people and the way I empower the people I collaborate with is a different way to look at problem solving for the world than a normal political way."